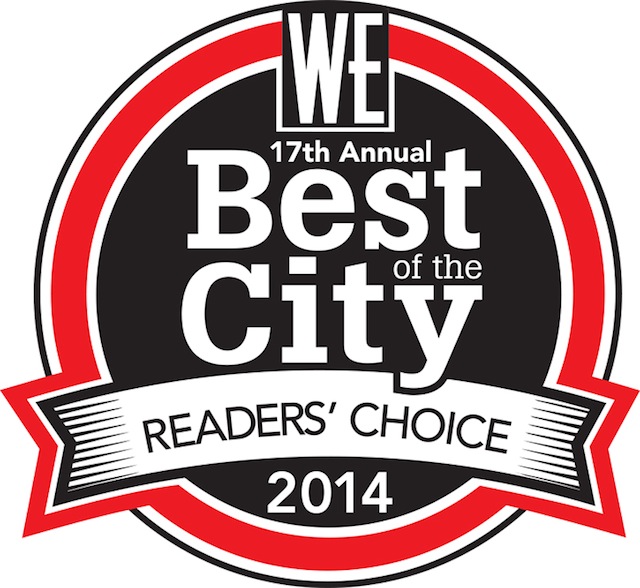 The results are in for WE Vancouver's Best of the City readers' choice awards for 2014 and I am very honoured to be named #1 Best Local Blog and #2 Best Local Twitter account!
This is the 17th annual Best of the City edition of WE Vancouver and it's the biggest yet, including a new "Best of Neighbourhoods" category.
The big list of the Top 3 winners in each category is listed online now and will appear in this week's print copy of WE Vancouver. You can find it in newspaper boxes all around town and it will be your ultimate guide to the best shopping, dining, and much more in this city. Here are just a few of the results:
WE Vancouver Best of the City 2014
Local Entrepreneur
1. Ryan Holmes (Hootsuite)
2. Mark Brand (tie) (Save On Meats)
2. Jim Pattison (tie) (Signs, media, automotive)
3. Chip Wilson (Lululemon)

Local Podcast
1. Stop Podcasting Yourself
2. Caustic Soda
3. Team 1040 Podcast (tie)
3. Sneaky Dragon (tie)

Performing Arts Fest
1. PuSh International Performing Arts Festival
2. Bard on the Beach Shakespeare Festival
3. Vancouver Fringe Festival

Burger
1. Vera's Burger Shack (multiple locations)
2. Fatburger (multiple locations)
3. Whitespot (multiple locations)

Public Art
1. 'A-maze-ing Laughter' (English Bay)
2. 'Digital Orca' (Vancouver Convention Centre)
3. 'East Van Cross' (Clark and East 6th)

Shopping Street
1. Robson Street
2. Main Street
3. West 4th Avenue

Art Gallery
1. Vancouver Art Gallery
2. Museum of Anthropology
3. Bill Reid and Douglas Reynolds

Local TV Personality
1. Tamara Taggart (CTV)
2. Chris Gailus (Global)
3. Ian Hanomansing (CBC)

Musician/Band
1. Mother Mother
2. Dan Mangan
3. Said the Whale

Local Radio Station
1. The Peak 102.7
2. CBC
3. The Beat 94.5

Local Radio Personality
1. Kid Carson (SONiC 104.9)
2. Nat & Drew (Virgin 95.3)
3. Stephen Quinn (CBC)

Local Athlete
1. Ryan Kesler (Canucks)
2. Henrik Sedin (Canucks)
3. Joe Cannon (Whitecaps)
Thank You!
I sincerely appreciate every single read, share, like, comment, and contest entry that this blog receives. I do not have a team of writers although I do have wonderful friends like Michelle Kim and John Biehler who help me out with events every few months so I have to thank them for their support.
I just can't believe I've kept this "blog thing" going for 10 years now. I am honoured to be able to have this dream job and to write about the best city on earth each and every day. Thank you for reading and for being so generous with your time — and online votes!