AMSSA is hosting the 10th Annual Vancouver Diversity Health Fair at the Croatian Cultural Centre on Saturday, March 1, 2014.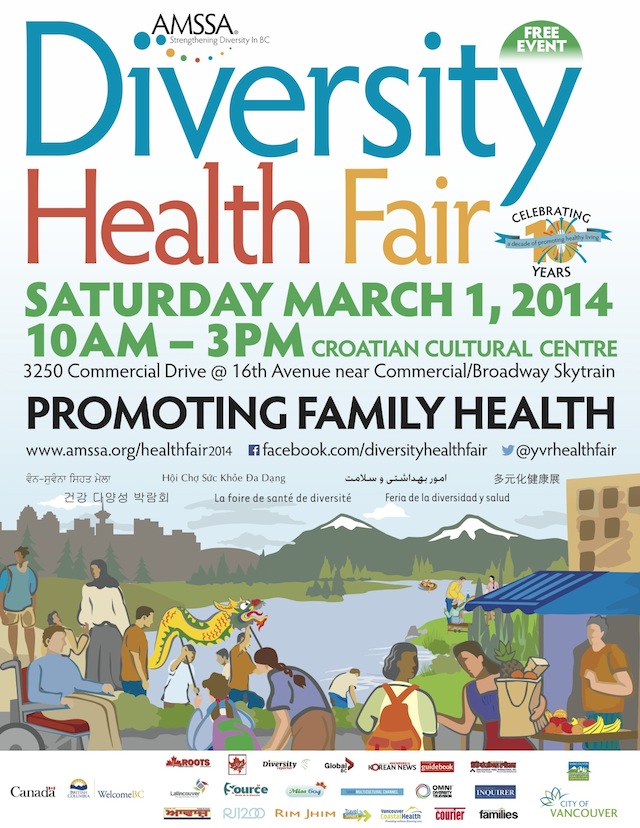 Where Croatian Cultural Centre, 3250 Commercial Drive
When Saturday, March 1, 2014 from 10:00am to 3:00pm
Tickets Not required, it's FREE!
The Diversity Health Fair is one of the most dynamic multicultural events in the Lower Mainland celebrates a decade of promoting health and wellness to Vancouver's diverse community. The theme of this milestone event is Promoting Family Health.
Yesterday I spoke with Lynn Moran, Executive Director of AMSSA to find out more about the history and evolution of the fair as well. Here's everything else you need to know about this free family-friendly event:
Vancouver Diversity Health Fair Schedule
Opening Ceremonies 9:30am to 10:00am
The opening ceremonies will take place in the Interactive Hall and will include the following:
First Nation Blessing by Phil L'Hirondelle
Welcoming Remarks by Alisa Choi Darcy, AMSSA Vice-President
Introduction of Honoured Guests
National Anthem by Vancouver Childrens Choir
Ribbon Cutting with Honoured Guests
International Chinese Lion Dance Procession to Exhibitor Hall by Shao Lin Hung Gar Lion Dance Team
Main Exhibitor Hall 10:00am to 3:00pm
Visit over 50 health and wellness exhibitors. Examples include:
Vancouver Coastal Health: Opportunity to complete 'My Health, My Community' survey along with free giveaway and prize draws
Dental Undergraduate Society of UBC: How much do you know about your teeth? Quiz, Brush Your teeth colouring page for children
Canadian Diabetes Association: Interactive wheel trivia
FortisBC: Interactive Plinko Game & healthy home giveaways
REACH Multicultural Family Centre interactive display for the benefits of gardening and fresh vegetable & guests can plant and take away their own seedling
Options for Sexual Health: Interactive game of sexual health with skill testing questions & contraceptive displays
Healthy Families: BC Sodium challenge
Health Screening Area 10:00am to 3:00pm
The Health Screening Area, sponsored by Vancouver Coastal Health, will give fair visitors the chance to receive free health assessments from the following health and wellness organizations:
Blood Pressure Testing by Vancouver Coastal Health
Ask a Nurse by Vancouver Coastal Health
Ask a Dietician by Vancouver Coastal Health
Ask about Healthy Living by Vancouver Coastal Health
Video Otoscopy & Tympanometric screenings by Western Institute for the Deaf and Hard of Hearing
CANRISK Assessment by Vancouver Coastal Health Ask a Pharmacist by London Drugs
Ask a Psychologist by BC Psychologist Association
Blood Typing by Canadian Blood Services
Spinal Screening by Kilian Chiropractic
Posture and Balance Screening by Dr. Sabrina Chen-See
Interactive Hall: Healthy Families Activity Zone 10:15am to 3:00pm
The Healthy Families Activity Zone, sponsored by Vancouver Park Board, will include the following organizations that will encourage families to incorporate physical activity into their daily routines:
Vancouver Park Board
Gymnastics BC
Yoga Buttons
Vancouver Farmers Markets
ParticipACTION
MoreSports
Interactive Hall: Multicultural Performance Stage 10:30am to 3:00pm
The Multicultural Performance Stage will include entertainment for everyone to enjoy and participate in. Performances will include:
10:30am to 11:00am Zumba: Latin Dance Fitness
11:30am to 12:00pm Red Fox Society: Drumming Circle & Pow Wow Dance
12:30pm to 1:00pm Cuban Salsa: Estilo Cubano
1:30pm to 2:00pm Limbo: King Fish
2:30pm to 3:00pm Science Surprises by Science World
Healthy Cooking Stage 10:00am to 3:00pm
Local chefs will demonstrate how to prepare simple and healthy meals for you and your family as part of The Healthy Cooking Stage area. The following chefs will be participating in this year's Diversity Health Fair:
10:15am to 11:00am Thi Bui, Clinical Dietician with Fraser Health
11:30am to 12:15pm Chef Gerry Kasten, Vancouver Coastal Health
12:45pm to 1:30pm Chef Trevor Randle, BC Agriculture in the Classroom: Maple Ridge Secondary School
2:00pm to 2:45pm Chef Siddartha Choudhary, Siddarthas Indian Kitchen
There is parking available nearby and you can also take the SkyTrain to Broadway/Commercial and walk over from the station. The Bicycle Valet will be onsite to safely store your bike if you ride to the fair.
Miss604.com is a proud sponsor of this event
Follow the Vancouver Diversity Health Fair on Facebook and Twitter for more information.
AMSSA is an affiliation of over 80 member agencies providing immigrant settlement and multicultural services in over 25 communities throughout BC. They provide leadership in advocacy and education for anti-racism, human rights and social justice, supporting its members in serving immigrants, refugees and culturally diverse communities.