The City of Vancouver is a lovable place which is why people write songs that praise its glory and create artwork, t-shirts, and crafts that share its wit, charm, and practicality. From Vancouver-themed Valentine's Day cards and Vancouver We Love You shirts, to my friend Preston's isometric Vancouver design series as seen in my blog's header. I browsed Etsy, the popular e-commerce website for handmade and vintage items, to find more nifty products that boast the goodness of the 604:
10 Cool Vancouver Gift Items on Etsy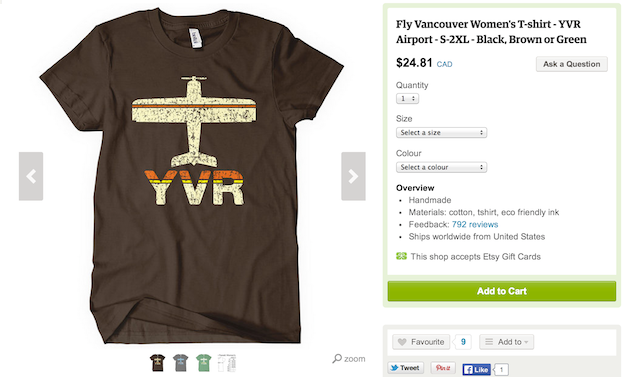 Seller: Smash Transit
Description: Love Vancouver? Love our multi-award winning airport? Love planes? This is the shirt for you.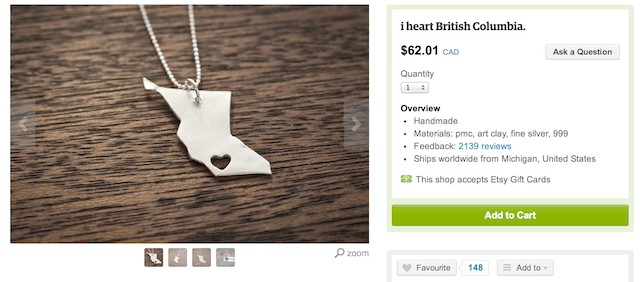 Seller: truche
Description: I have the same type of necklace but in the shape of John's home state, Iowa. I absolutely love it and have barely taken it off in over a year. This one of BC is definitely a keeper as well.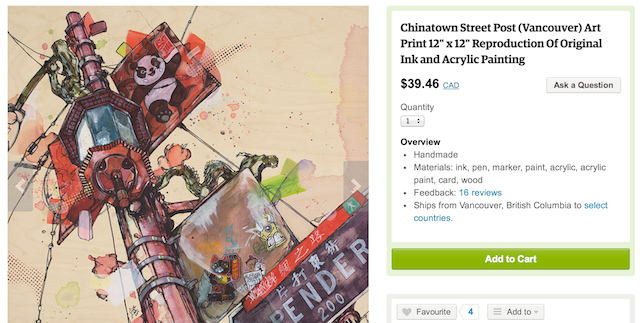 Seller: JonShawPaintings
Description: Alleys, street signs, traffic signals, and iconic neon. These prints depict the grittier side of the city in a beautiful way with unique angles and points of view.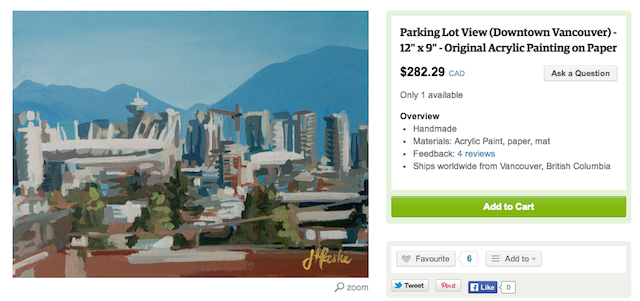 Seller: JoanneHastie
Description: Original artwork, acrylic paintings on paper. I love "Aquabus II" and other scenes from around BC. Colourful, playful, and so very West Coast.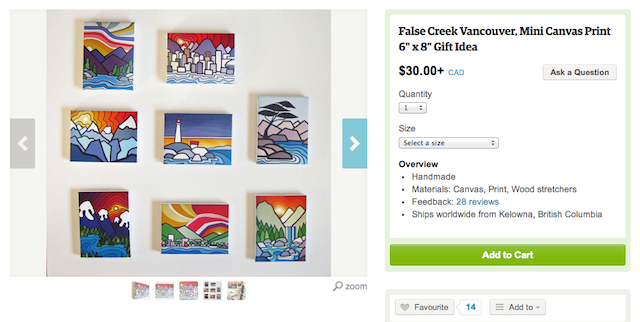 Seller: LeanneSpanza
Description: Bold, bright, happy. These mini canvas prints feature local landmarks and familiar scenery.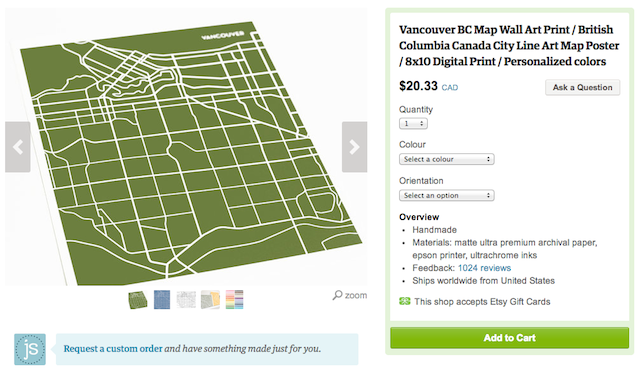 Seller: jennasuemaps
Description: City line art posters featuring minimalist maps of cities like Vancouver. Customizable orders and colours available.


Seller: Ole Originals
Description: A big, bold Vancouver "V" along with a skyline featuring the Harbour Centre and Vancouver Lookout. The Tofino shirt with a wave is pretty cute too.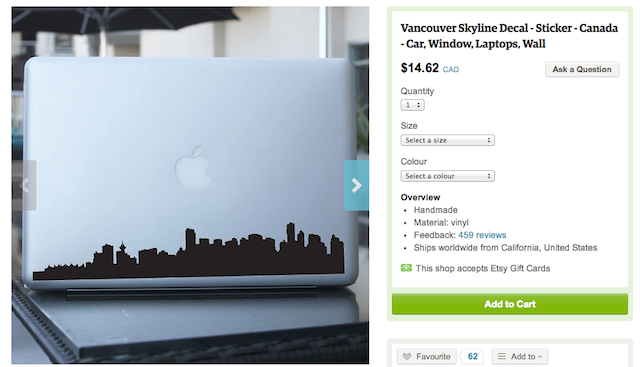 Seller: UrbanDecal
Description: A little bit of protection for your laptop combined with showing off the Vancouver skyline.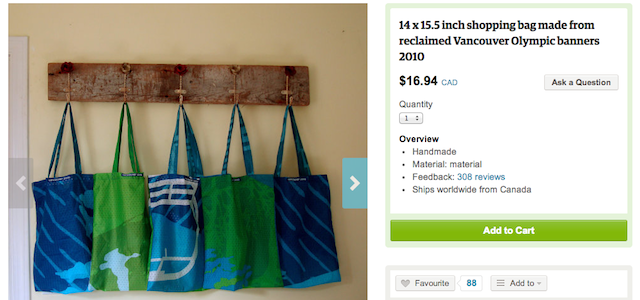 Seller: UrchinBags
Description: Whatever happened to all those wraps and banners from the Vancouver 2010 Winter Olympics? Well this seller has turned them into shopping bags.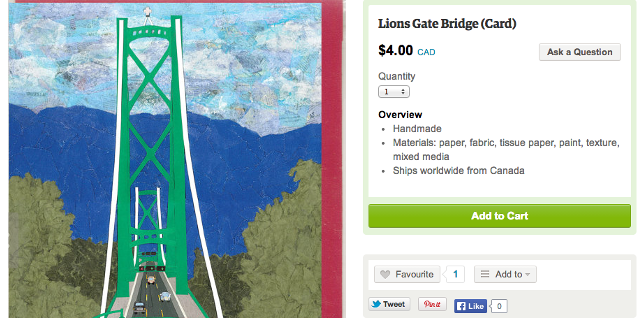 Seller: NicholasBrancati
Description: Unique greeting cards feature Vancouver views like the Lions Gate Bridge and Lighthouse Park.
If you're in Vancouver, you can find more great local gifts at shops on Main Street, Commercial Drive, and in Gastown but the benefit of Etsy is its worldwide reach. Prices listed are not guaranteed, they are from the day the screenshot was taken. Listing here is not an endorsement for the seller. I just thought these were all pretty neat!
NOTE: Prices were captured in 2014 and may not reflect the most up-to-date price for each item. The seller's price is always the correct/accurate price.