The Rio Theatre is serving up a mix of cult favourites, comedy, classic horror and more as this month's Friday Late Night Movies. These 19+ screenings can be complimented with a beverage from the theatre's full service bar as you enjoy a night out with friends. Tickets are available online in advance or at the door for $8 or $6 if you come in costume.
Rio Theatre Friday Late Night Movies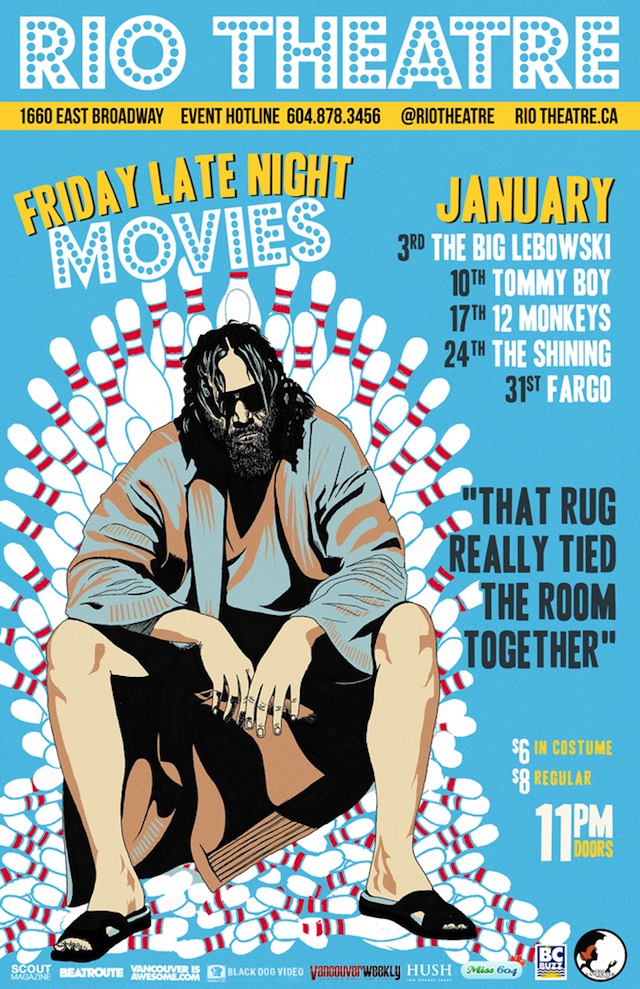 Friday, January 3, 2014
The Big Lebowski (Joel & Ethan Coen, 1998) That rug really tied the room together.
This Coen Brothers' classic is about a guy named "Dude" Lebowski (Jeff Bridges) who is mistaken for a millionaire also named Lebowski, who seeks restitution for his ruined rug and enlists his bowling buddies to help get it. Also starring John Goodman, Steve Buscemi, Julianne Moore, Philip Seymour Hoffman, and… Flea. Join us for White Russians in your coziest pajamas and Cowichan sweaters.
Friday, January 10, 2014
Tommy Boy (Peter Segal, 1995) If at first you don't succeed, lower your standards.
Two of the most notable names to emerge from 90s-era Saturday Night Live, Chris Farley and David Spade, shine in this hilarious, insanely quotable, and totally unlikely buddy movie. | An incompetent, immature, and dimwitted heir to an auto parts factory (Farley) must save the business to keep it out of the hands of his new, con-artist relatives and big business. Also starring Brian Dennehy, Bo Derek, and Dan Aykroyd.
Friday, January 17, 2014
Twelve Monkeys (Terry Gilliam, 1995) The future is history.
Bruce Willis, Brad Pitt (who was nominated for an Oscar and won a Golden Globe for his standout supporting role), and Madeleine Stowe star in director Terry Gilliam's (Monty Python, Brazil) non-linear dystopian science-fiction thriller. | In a future world devastated by disease, a convict is sent back in time to gather information about the man-made virus that wiped out most of the human population on the planet.
Friday, January 24, 2014
The Shining (Stanley Kubrick, 1980) All work and no play makes Jack a dull boy.
Unlike so many horror movies, director Stanley Kubrick's chilling masterpiece The Shining hasn't lost any of its luster in the thirty-odd years since it release. Based on Stephen King's 1977 novel and adapted by Kubrick (an effort famously loathed by King), this story of a family (Jack Nicholson, Shelley Duvall, Danny Lloyd) whose winter retreat in an isolated hotel is interrupted by an evil presence that manages to turn dad violent and make mom into a confused hysteric while their weirdly psychic son sees creepy twins and mutters incessantly about "red rum," is best appreciated on the big screen.
Friday, January 31, 2014
Fargo (Joel & Ethan Coen, 1996) Small town. Big crime. Dead cold.
Actress Frances McDormand won an Oscar for her portrayal of the very tenacious (and very pregnant) sheriff Marge Gunderson, who sets out to solve three murders in her small town of Brainerd, Minnesota in the dead of winter. | Jerry Lundegaard's inept crime falls apart due to his and his henchmen's bungling and the persistent police work of the quite pregnant Marge Gunderson. Also starring William H. Macy and Steve Buscemi.
Miss604 is a media partner of the Rio's Late Night Movie series.