Join the CKNW Orphans' Fund to celebrate Pink Shirt Day with a kick-off Pink Shirt Day Ladies Luncheon on Friday, February 21st from 11:30 am to 2:00 pm at the Award Winning Blue Water Cafe in Yaletown.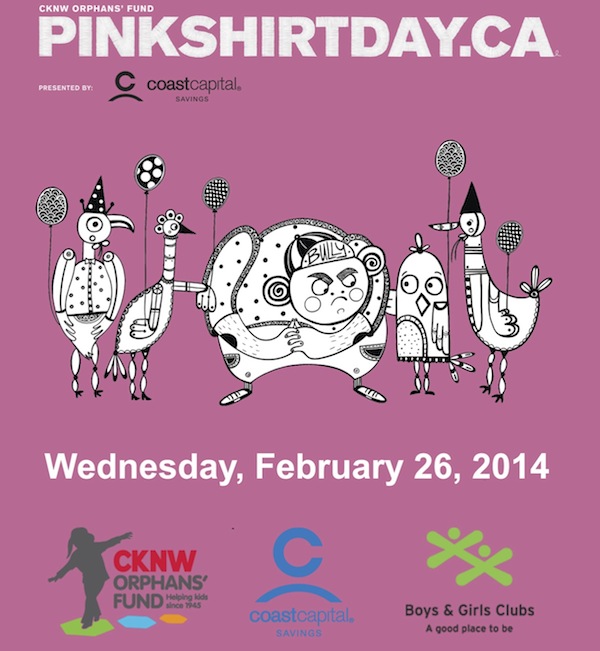 Presented by Coast Capital Savings, Pink Shirt Day in BC is Wednesday, February 26th, 2014. On that day everyone is encouraged to wear something pink to symbolize that we as a society will not tolerate bullying anywhere.
The idea for Pink Shirt Day was inspired by two Nova Scotia high school students, David Shepherd and Travis Price, and it has since blossomed into an annual campaign against bullying here in BC.
The Pink Shirt Day Ladies Luncheon is for a good cause, but it's also a fabulous event: it will feature a delicious lunch, wine, silent & live auction and a signature Pink Shirt Day swag bag. Emcee'd by two of Vancouver's media darlings, the lovely Fiona Forbes from Shaw TV's The Rush and Karen K from CFOX's Jeff O'Neil Show, it will be a great opportunity to network while helping a very important cause.
Tickets are $65.00 plus applicable taxes. Net proceeds raised from the lunch will benefit a variety of anti-bullying programs in BC including Boys & Girls Clubs and the Red Cross RespectED Violence & Abuse Prevention Program.
Tickets can be purchased online. To learn how to you can get involved in Pink Shirt Day, visit PinkShirtDay.ca.