When jewelry designer Peg Steley was approached by the owner of the Back Gallery Project, Monica Reyes, about an exhibition Steley says she suddenly viewed her work in a different light. "It made me perceive it as a body of work and motivated me to push the envelope," she says.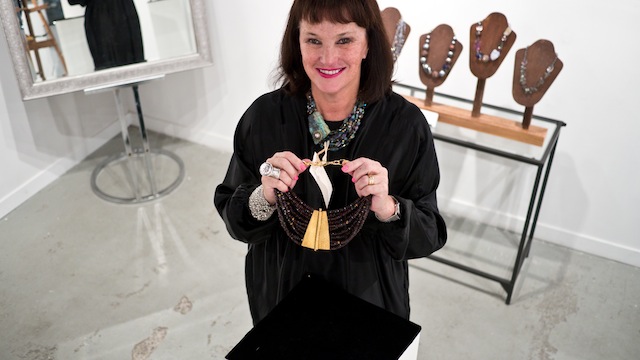 Before a career in jewels, and before raising children, Steley had a career producing major international spectacles, including the Opening and Closing Ceremonies for World Expo 1986. And when you look at each piece, they explode out like fireworks and crackled with non-stop surprises.
At her opening last Thursday night, Ohhhhs and Awwws could be heard throughout the gallery.
For "Rock" Star, Steley uses unique stones and gems (including Brazialian opals, Swarovsky crystals, Indian peacock druzy, and Tibetan charms) that she has collected from all over the world (including Bali, Morocco, Mexico, Rjasthan, and Tibet), assembling them in an almost unimaginable way.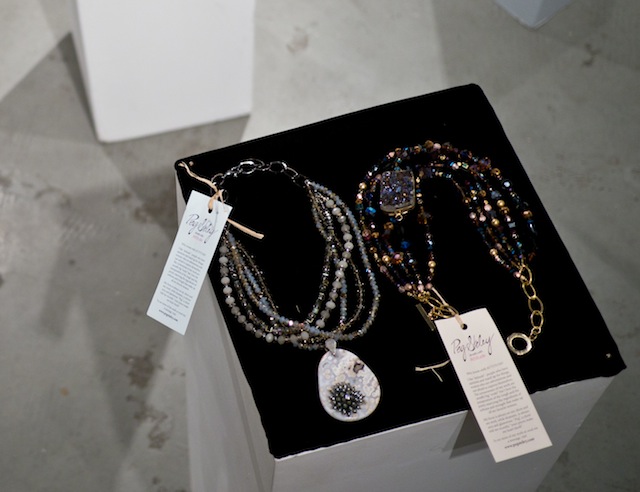 "I guess I'm still entertaining people with extravagant spectacles," she says. A native of Sydney, Australia, Steley says that her diverse parentage has also had a huge influence on her work. "My mom and grandmother were very glamorous fashionistas. I think I inherited that for element. My father was an adventurer and loved to travel to remote places alone. I love to do that, as well."
This duality that lives within her can also be seen in her pieces–they are glamourous yet edgy, raw yet refined, high-art yet completely wearable for every woman… an easy way to inject a little of the spectacular into everyday life.
The Back Gallery Project is located at 602 E Hastings Street and you can follow the gallery on Facebook and Twitter. Find out more about Peg Steley online.