Iconic Vancouver attractions have joined forces to create a fun, festive, family-friendly holiday destination this season. Port Metro Vancouver, Canada Place, FlyOver Canada, the Vancouver Convention Centre and Burrard Landing at Convention Centre West make up the new Winter Waterfront District.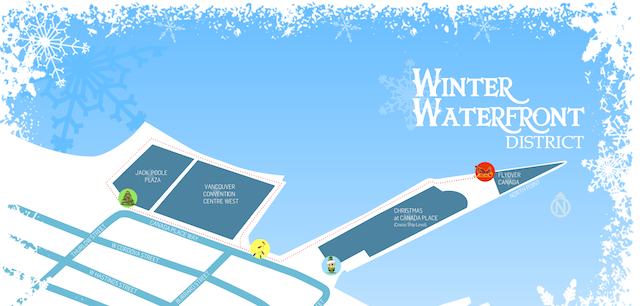 Winter Waterfront District in Vancouver
The District spans Canada Place Way from the foot of Howe Street to Thurlow Street at the foot of Jack Poole Plaza at the Vancouver Convention Centre. Activities along the waterfront include:
Christmas at Canada Place
Christmas at Canada Place presented by Port Metro Vancouver is celebrating your favourite Canadian Christmas memories. Enjoy the free, family fun at the Canada Place cruise ship terminal from December 1st to December 31st. Skate under the Northern Lights, ride the holiday train, tour the historic Woodward's Windows and more. Drop off food donations for the Greater Vancouver Food Bank at the giant "present" located on the front plaza at the entrance of Christmas at Canada Place.
Christmas at FlyOver Canada
Christmas at FlyOver Canada will run from November 29th through January 5th every day from 10:00am until 9:00pm. Rudolph is lost and Santa needs your help to find him and save Christmas for all. Christmas at FlyOver Canada will include a Christmas themed ride fun for all ages and will also feature a free outdoor Christmas Plaza which will host a variety of live music performances, Santa's Artic Art Workshop featuring live ice carving demonstrations, seasonal favorites' served up hot and steaming from onsite vendors, Leonida's Chocolate Café and Swiss Style Nuts, plenty of decorations and Christmas lights and much more.
2013 Vancouver Tree Lighting Celebration Presented by Amacon
Enjoy the 7th annual Vancouver Tree Lighting Ceremony on December 6th from 5:30 pm to 7:00pm at Jack Poole Plaza at the Vancouver Convention Centre. This free public event benefitting local charities will feature the lighting of a 50-foot tree. Hosted by Steve Darling of Global TV, the celebration will feature performers and celebrity appearances by the Sarah McLachlan School of Music, the BC Lions, Trevor Linden and Santa. The area will be lit until January 3rd.
Visit the Winter Waterfront District website for more information.