Pastime Sports, with locations in Langley and Surrey, is hosting a fundraising pub night at Central City Brewing on November 23rd with local hockey legend Dave Babych — a fantastic special guest to host during the month of Movember.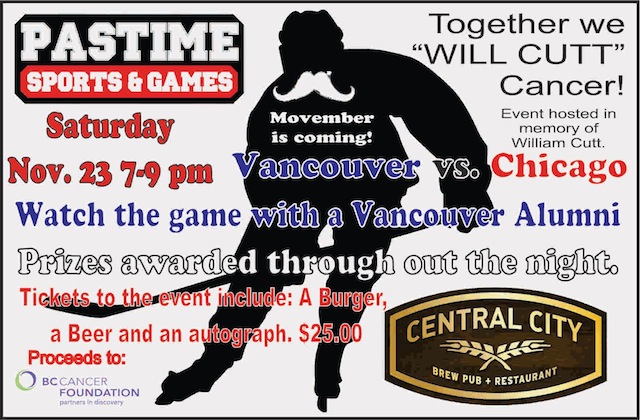 What: Vancouver Alumni Experience with Pastime Sports hosted in memory of William Cutt
Where: Central City Brewing (13450 102 Ave at Central City, Surrey)
When: Saturday, November 23, 2013 at 7:00pm
Tickets are $25 and they include a burger, a beer, an autograph, watching the Canucks take on Chicago on Central City's big screens. There will be door prizes, a live band, and more. Outside, the Surrey Tree Lighting Festival will be in full swing as well.
All proceeds from this event will be donated to the BC Cancer Foundation. Tickets are available online now or in-store at Pastime Sports in Central City (near the food court) and in Langley at 20378 Fraser Highway.