It's a winning combination: a VIP wine tasting, a film screening, and the Rio Theatre. On Tuesday, November 26, 2013 catch the Western Canadian premiere of Red Obsession, supported by Marquis Wine Cellars, Bella Wines, Direct Wines, Rich Massey Wine and Spirits, Summerhill Pyramid Winery, and Okanagan Crush Pad.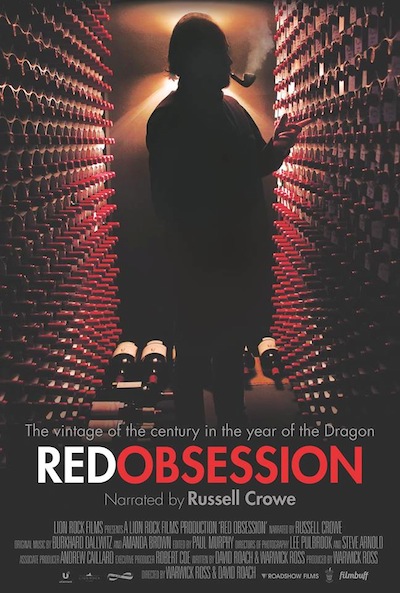 Narrated by Oscar-winner Russell Crowe, this stunningly shot and wildly entertaining documentary chronicles the history and changing nature of the French wine industry. For centuries Bordeaux has commanded a mythical status in the world of fine wines as a symbol of wealth, power and influence. Prices for its prestigious red wines have been breaking records with the emergence of an ever-growing Chinese market that is changing the nature of wine in the 21st century.
Featuring interviews with collectors, connoisseurs, and winemakers, the film presents an eye-opening exploration of the complexities and unpredictability of the global market and the economic effects and influence of the voracious wine-obsessed collectors of China. For better or worse, Bordeaux is hitching itself to this new, infinitely wealthy client.
VIP tickets get you into the wine tasting before the film and they are currently available for $30 at the door or $25 in advance online. Tickets for the film only are $12 in advance and $15 at the door. In addition to having co-director Warwick Ross present in person, veteran broadcaster, noted wine aficionado, and host of Tasting Room Radio Terry David Mulligan is set to lead the post-screening Q&A.
If you would like to win your way into this VIP wine tasting and film screening, I have a pair of tickets to give away. Here's how you can enter to win:
Leave a comment on this post (1 entry)
Post the following on Twitter (1 entry)
RT to enter to win VIP tix to #RedObsession at the @RioTheatre from @Miss604 http://ow.ly/qZzaV
I will draw one winner at random from all entries at 12:00pm on Friday, November 22, 2013. Must be 19+ to attend. Please enjoy responsibly and plan a safe ride home.
The VIP wine tasting is from 6:30pm to 8:00pm on Tuesday, November 26, 2013 and the film screening will be at 8:30pm followed by a Q&A. Follow the Rio Theatre on Facebook and Twitter to find out more about special events and film screenings.
Update The winner is Frank Z!