The 2014 Tim Hortons NHL Heritage Classic will take place March 2, 2014 at BC Place as the Vancouver Canucks take on the Ottawa Senators in an open-roof stadium match. Teams unveiled their jerseys for the event this morning, both using inspiration from early club sweaters.
The Senators will wear jerseys celebrating the early-NHL era Senators, four-time Stanley Cup® champions in an eight-year span from 1920-27. The sweaters feature historical elements interpreted in a modern look, balancing past with present. The large "O" logo on the front that stands for Ottawa is reminiscent of the design prior to 1934. The red and black stripes on a cream background, borrowed from the 'Barber Poles' of past jerseys, is used across the chest, arms and socks.

The Canucks will pay homage to the Vancouver Millionaires by wearing their commemorative Millionaires jerseys. First worn by the team last season, the jerseys celebrate 100 years of hockey on the West Coast and include a large "Victory V" logo front and center, maroon and cream striped sleeves and a large cream stripe on maroon socks. The franchise will wear the special jersey at the 2014 Tim Hortons NHL Heritage Classic™ in honour of Vancouver's original hockey heroes. [Source: Press Release]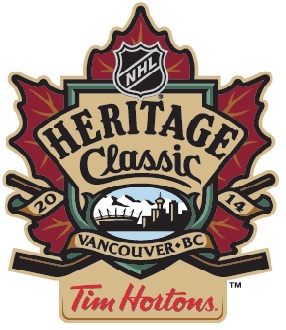 The 2014 edition of the NHL Heritage Classic follows the 2003 game in Edmonton between the Oilers and the Montreal Canadiens, and the 2011 contest in Calgary between the Flames and Habs. The will Canucks become the first NHL team to host a game in a retractable-roof facility and just the third Canadian NHL team to host a regular season game outdoors.
Tickets go on sale to the public on Thursday, December 5, 2013 at 10:00am (Pacific) via Ticketmaster.ca/NHL or 1-855-985-5000. The game will be broadcast live on CBC and RDS in Canada and NBCSN in the U.S. beginning at 1:00pm (Pacific).
As a supporter of the 2014 Tim Hortons NHL Heritage Classic, the 37 downtown hotel members of the Vancouver Hotel Destination Association will be featuring great prices on their booking site at BeVancouver.com. Official fan packages for all NHL signature events will be available from Global Event Forum, the Official NHL Events™ Fan Package Partner.
The NHL Heritage Classic in Vancouver will be just shy of the 99th anniversary of the Vancouver Millionaires defeating the Senators to win the Stanley Cup at Denman Arena in Vancouver in 1915. Check out some archive photographs of early Vancouver Canucks teams in this post.