I am pleased to once again support and participate in CKNW Orphans' Fund Pledge Day at the Fairmont Hotel Vancouver. I was first involved in 2011 after my company put together a new website for the CKNW Orphans' Fund and last year I volunteered a few hours on the phone lines taking donations. I'll be participating again this year live from the Fairmont Hotel Vancouver.
CKNW Orphans' Fund 36th Annual Pledge Day
December is just around the corner, which means CKNW Orphans' Fund's Pledge Day must be too! On Friday, December 6th, the annual Pledge Day event will be held at Fairmont Hotel Vancouver and broadcast live on CKNW 980 radio.
CKNW Orphans' Fund provides funding for physically, mentally challenged, and disadvantaged children in our province. Pledge Day is the organization's largest annual fundraiser, and it is in its 36th year. I have attended the fantastic event for the past few years and will once again be there on December 6th.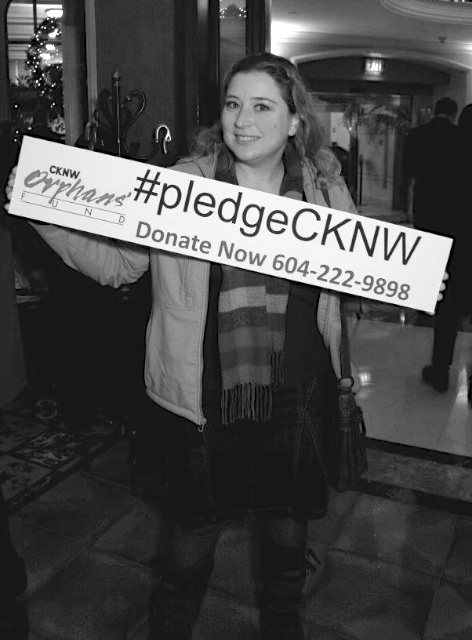 It is quite an amazing day as it brings together a diverse group of Vancouver's top executives, popular media personalities, donors, grant recipients, and volunteers – all dedicated to assisting CKNW Orphans' Fund in reaching their goal to raise over $1.5 million for special needs children in BC.
Guests confirmed to be in attendance include Vancouver Mayor, Gregor Robertson; Chief of Police, Jim Chu; Sportsnet reporter, Dan Murphy; former RHOV, Mary Zilba; folk singer, Dan Mangan; The Rush host, Fiona Forbes; BC Lions GM, Wally Buono; Vancouver Whitecaps President, Bob Lenarduzzi; and many more! There will also be top executives and prominent community individuals present such as Joe Segal, Honourable Wally Oppal, Cliff Ronning, Robert Armstrong, Ryan Beedie, Yuri Fulmer, and more.
The event runs all day – the Pledge Day broadcast starts at 5:30am and goes until 7:00pm in the evening. CKNW radio hosts like Bill Good, Michael Campbell, and Simi Sara will be interviewing prominent Vancouver executives, media personalities, donors, and grant recipients live on-air all day long. While they are doing so, volunteers will be manning the phones and taking donations for the CKNW Orphans' Fund.
On December 6th, please do consider calling (604) 222-9898 to donate to this remarkable cause. Even a small donation can make a world of difference for a child in need. I have been helping CKNW Orphans' Fund with this event for many years now and both they and I would appreciate any support. I'll be on the phone lines from 3:00pm to 5:00pm with other local bloggers so perhaps you'll even talk to me directly when you call in with your pledge.
If you need any extra incentive to donate, every person who calls in on December 6th will be automatically entered to win a trip for four to anywhere WestJet flies. As well, donations of $98 or more are eligible to receive a package consisting of 2 tickets to the Vancouver Giants, $10 to Chevron, White Spot, and Rocky Mountain Chocolate Factory, and $50 off an appliance at Trail Appliances worth $400 or more. Wouldn't this make a great Christmas present for a loved one?
CKNW Orphans' Fund Pledge Day will be held on Friday, December 6th at Fairmont Hotel Vancouver, and I'm hoping you'll join me in supporting this great community cause. You can do so by calling into (604) 222-9898 to donate, or coming down to do so in person. Check out CKNW Orphans' Fund's website and follow along on Facebook and Twitter for more information.