The Robson Square ice rink is open for a season of free skating fun in downtown Vancouver so it's definitely time for my annual collection of ice skating photos from the City of Vancouver Archives: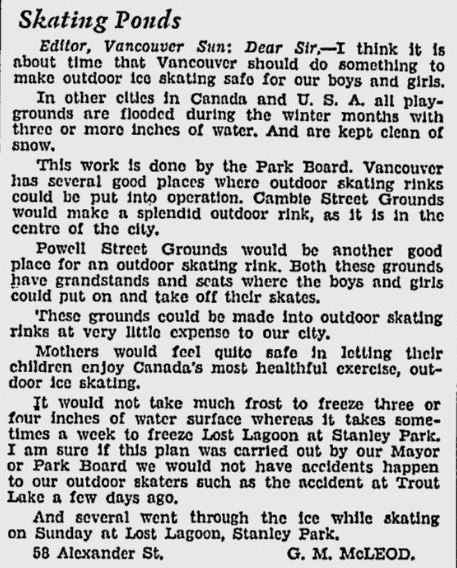 Throughout the city's history people have been enjoying outdoor skating, when the conditions are right. The Sunday Sun had a letter to the editor in 1936 urging the city and park board to create safe skating surfaces outdoors (see clipping to the right).
Back in 1962 an article in The Sunday Sun announced that Coal Harbour froze over as did Beaver Lake and Lost Lagoon.
"By mid-morning about a quarter of an inch of ice covered the harbor in the area between the Burrard and the Royal Vancouver yacht clubs… …A thin coating of ice also formed on parts of False Creek and in Fisherman's Cove in West Vancouver."
On November 15, 1955 The Vancouver Sun published a public notice that it was unsafe to skate on Trout Lake however, Beaver Lake remained the only safe outdoor skating area in the city. In 1969 a post in The Sunday Sun warned residents that it was unsafe to skate at Lost Lagoon, Beaver Lake, and Trout Lake — a notice with which we are familiar in recent winters.
Safe and guaranteed outdoor skating options around town include Grouse Mountain and Robson Square, complimenting our range of indoor rinks.