The 13th annual West Coast Women's Show is western Canada's largest and most popular women's consumer event — and the ultimate girls' night out. Taking place at TRADEX in Abbotsford, the show will provide three days of shopping, entertainment, fashion, food, and more from Friday, October 25th until Sunday, October 27th.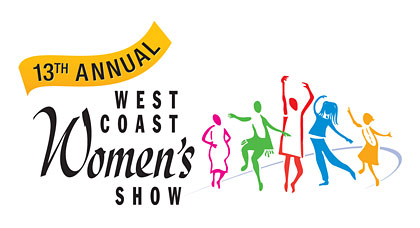 West Coast Women's Show Themes and Zones
Look for more than 100 Red Tags at 400 exhibitor booths for show specials and new products and check out the following themes and zones:
Fashion & Style
Discover the latest fashions and accessories that will keep you looking and feeling fabulous for every setting, occasion, and time of day. This is the perfect place to revamp your wardrobe for the season.
Home & Interior Décor
Now bigger and better than ever, the Home & Interior Décor Zone is the only fall home show at TRADEX. It's a "show within a show" where you'll find all the inspiration and resources you need to spruce up your living space.
Health & Wellness
Staying healthy is the key to a vibrant life. Shop for products and learn all you need to know about alternative health options, diet and nutrition, and health concerns that can affect women of all ages.
World of Taste
Sip, sample and savour your way through the World of Taste, discovering new food and beverage products, ideas for entertaining, and wholesome recipe tips.
Natural & Organic Products
Living a natural, healthy life doesn't have to be a challenge. Find an incredible variety of natural and organic items including skin care and beauty products, cosmetics, local and organic foods, eco-fashions, accessories and more.
Active Women's Zone
Get energized and motivated with fitness demos, tips and tricks that will help you spice up your routine and keep your body and mind in shape.
Travel Showcase
The Travel Showcase is the perfect place to find all the resources and information you need to make that next trip unforgettable. From weekend spa getaways to grand adventures, hotels, retreats and resorts!
Five stages will entertain and present guests like Melody Thomas Scott from The Young and the Restless, Olympic Champion Nancy Greene-Raine, Meteorologist Mark Madryga, Sherry Holmes from HGTV's Holmes Makes It Right, White Spot's Chuck Currie, 2014 calendar firefighters, and more.
Friday and Saturday nights will be Girls' Night Out Martini Nights and Sunday will be Mothers & Daughters Day where the first 500 visitors will receive a free gift pack from Pretty Things. Follow the West Coast Women's Show on Twitter and Facebook for more information leading up to the event.
The show will run Friday, October 25, 2013 from 1:00pm to 10:00pm; Saturday, October 26, 2013 from 10:00am to 9:00pm; Sunday, October 27, 2013 from 11:00am to 5:30pm at TRADEX in Abbotsford. Admission is $12 for adults, $9 for seniors ($7 on Friday from 1:00pm to 4:00pm), $9 for youth (13-17), $4 for children (6-12), and children 5 and under are free. Ticket prices include GST. Ticket sales are cash only at the gate at TRADEX.
Miss604 is a proud media partner of the 13th annual West Coast Women's Show