Vancouver Opera presents Tosca from October 26th until November 3rd, opening its 2013-2014 season with Puccini's last great 19th century opera. Featuring lavish sets and costumes, a magnificent chorus of more than 50 voices, and with 60 players in the orchestra pit, Tosca is a thrill for the senses.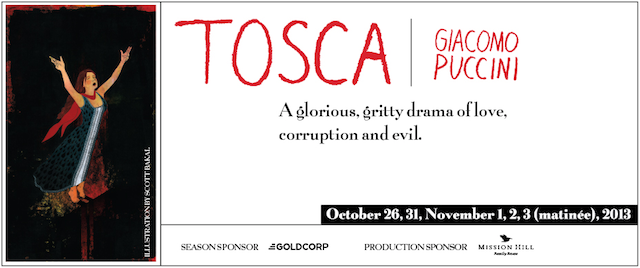 In Rome in 1800, the cruel chief of police, Baron Scarpia, is consumed with desire for Floria Tosca, the city's most celebrated singer. Using terror, extortion, and fraud, Scarpia threatens Tosca and imprisons her revolutionary lover, Mario Cavaradossi. Before Scarpia can have his way with Tosca, she plunges a knife into his heart. In the opera's harrowing climax, the lovers are reunited, only to be betrayed, from the grave, by the evil Scarpia.

Set in a time of political and religious upheaval, Puccini's masterful drama paints three unforgettable portraits: the fiery, pure-hearted Tosca; the passionate political idealist Mario; and the deeply depraved Scarpia. Puccini's score is filled with soaring melody, authentic Roman atmosphere, and spellbinding tension.
Tosca has everything a really great melodrama should have: sex, politics, and religion—a jealous diva; an artist willing to die to oppose tyranny; a depraved baron hiding a lust for dominance behind a mask of piety; love, jealousy, subterfuge, spies, violence, attempted rape, murder and betrayal. Add to that several of Puccini's greatest arias and the luscious orchestration and it's easy to see why Tosca has been one of the most frequently staged works in the operatic repertoire. Whoever said the opera was boring had certainly never been!
Opening night is Saturday, October 26, 2013, with subsequent performances Thursday, October 31; Friday, November 1; Saturday, November 2 at 7:30pm and a matinee performance on Sunday, November 3 at 2:00pm. All performances are at the Queen Elizabeth Theatre. Tickets are available exclusively through the Vancouver Opera Ticket Centre online or by telephone at (604) 683-0222.
Vancouver Opera extends a special treat to Halloween night audiences. All patrons who attend the Thursday, October 31st performance of Tosca in costume will receive $10 in "Opera Bucks", which may be used toward the purchase of a single ticket for any remaining 2013-2014 Vancouver Opera performance.
I have a pair of tickets to give away to Tosca as well, here's how you can enter to win:
Leave a comment on this post (1 entry)
Post the following on Twitter (1 entry)
RT to enter to win tickets to #Tosca at @VancouverOpera from @Miss604 http://ow.ly/pSHxA
I will draw one winner at random from all entries at 12:00pm on Monday, October 21, 2013. The winner will receive a pair of tickets to Tosca on Friday, November 1, 2013 at the Queen Elizabeth Theatre.
Vancouver Opera 2013-2014 Season
Tickets for Vancouver Opera's 2013-2014 season are now on sale. The season includes Tosca (opening October 26th), Albert Herring (opening November 30th), Don Giovanni (opens March 1st), and Don Carlo (opens May 3rd). Follow on Twitter and Facebook for more information about their upcoming performances.
If you haven't yet experienced the opera, I highly encourage you to do so. Ever since my first "Blogger Night at the Opera" (with Eugene Onegin in 2008) my appreciation has grown. The talent, voices, emotion, orchestra, and stunning sets that the Vancouver Opera manages to produce will blow you away.
Update The winner is Julian!