Throughout the month of October, Coquitlam Centre is accepting gently-used women's coats and jacket, in partnership with Dress for Success Vancouver.
"We"re really excited to be working with Dress for Success again this year," says Deborah Stetz, Marketing Director, Coquitlam Centre. The partnership coincides with Coquitlam Centre's "Rock that Coat" theme this fall, with the shopping centre's mission being to help every woman find the perfect coat.
Items can be dropped off at the shopping centre's guest services centre until the end of the month. As an added incentive, Coquitlam Centre will give donors the opportunity to enter a draw to win a $250 gift card for each coat they donate.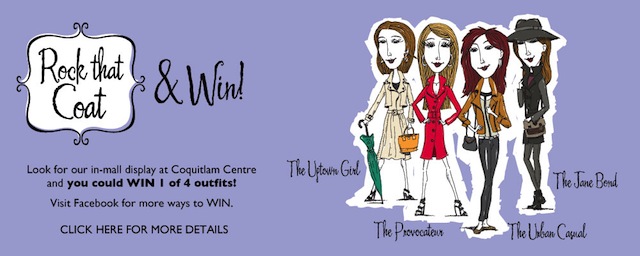 Coquitlam Centre will also be doing a weekly coat giveaway through their social media channels, tracking the tag #RockThatCoat on Twitter, Facebook, and Instagram.
Dress for Success is an international not-for-profit organization that promotes the economic independence of disadvantaged women by providing professional attire, a network of support and the career development tools to help women thrive in work and in life. Since starting operations in 1997, Dress for Success® has expanded to more than 120 cities in 13 countries. To date, Dress for Success® has helped more than 650,000 women work towards self-sufficiency.
To learn more about Dress For Success, you can check out their inaugural luncheon series on Wednesday, October 30, 2013. Panelists include Laurie Schultz, CEO, ACL Services; Kirsten Sutton, Managing Director, SAP; Kathy Butler, Managing Director & Co-Head, Vancouver Investment Banking, CIBC World Markets Inc.; and emcee Renu Bakshi, Media Personality. The event will feature a 3-course lunch and networking opportunities with proceeds supporting Dress for Success Vancouver. Tickets are available online.