Recent Commander of the International Space Station, Colonel Chris Hadfield, will be coming through Vancouver in November during his North American book tour. Hadfield captivated the world with stunning photos and commentary from space, his use of social media, and his ability to explain life on the ISS to the masses using videos and songs. He made space and science look really, really cool — as it should be perceived!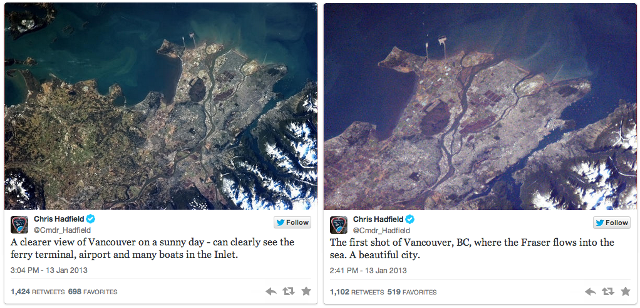 An Astronaut's Guide to Life on Earth
Hadfield's multiple daily tweets and photographs from space made people see the world differently. His accessibility, whether answering questions via Twitter or collaborating with The Barenaked Ladies on a song sung by nearly a million people simultaneously, endeared him to all, while he orbited Earth.
In Vancouver this morning, Hadfield inspired over 950 attendees at the Vancouver Tourism Awards. Quotes and excitement from those in the audience flooded Twitter. "It was like rolling dice in a cup" – @cmdr_hadfield on what it's like landing back on earth. @VanTourismAward #VTAGala2013" wrote @JoshuaDLangston.
"Perhaps the most important thing about space travel is the inspiration it gives people" @Cmdr_Hadfield to crowd at #VTAGala2013" shared @WhereVancouver.
"Amazing speech by @Cmdr_Hadfield followed by an acoustic performance!!! So worth waking up early for! #VTAGala2013" said @shannonswhite who also got a photo with the astronaut. Hadfield received his own Vancouver Canucks jersey this morning as well with the number 35, to mark his 35th trip to space.
Chris Hadfield Book Tour Vancouver Dates
In his first book, "An Astronaut's Guide to Life on Earth", Hadfield offers readers extraordinary stories from his life as an astronaut, and shows how to make the impossible a reality.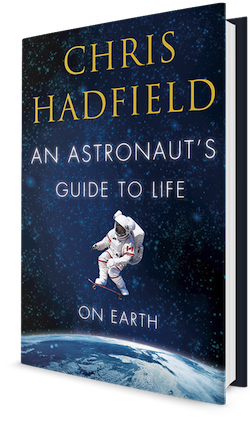 Written with humour, humility and a profound optimism for the future of space exploration, An Astronaut's Guide to Life on Earth offers readers not just the inspiring story of one man's journey to the ISS, but the opportunity to step into his space-boots and think like an astronaut-and renew their commitment to pursuing their own dreams, big or small.
An Astronaut's Guide to Life on Earth
is available online to purchase as a printed book, digital ebook, or audio book.
Friday, November 15, 2013
Surrey: Black Bond Books – Book signing. Details via the Central City website.
Monday, November 18, 2013
Vancouver: KidsBooks – Book signing.
You can also catch Colonel Chris Hadfield along with HootSuite's CEO, Ryan Holmes at Science World on Sunday, November 17, 2013 for the Innovators Speaker Series. The talk will take place in the OMNIMAX® Theatre and tickets can be purchased to either attend in person or be a Satellite Supporter, watching a streamed broadcast from afar.