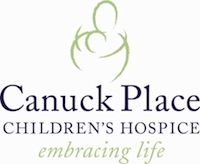 On Saturday October 19, 2013, Canuck Place Children's Hospice will welcome guests to the Westin Bayshore Hotel for their 9th annual Gift of Time Gala, where over 600 partners, supporters and friends of the Hospice will come together for an evening to honour the courage found at Canuck Place.
Living in British Columbia, we have all likely heard of Canuck Place, its fundraising events and connection to the community. However, perhaps not all of us have had the opportunity to hear a personal story of care and continued support. I was fortunate enough to connect with Nelia Evans, who graciously gave her time so that I could share her story:
In 2007, Nelia became pregnant – bringing a third child into the family – a sister for Olivia and Isaiah. Nelia calls her third pregnancy an "unexpected blessing," and that is where her journey with Canuck Place began. At just 18 weeks gestation, 'baby Gracie' was diagnosed with a severe form of hydrocephalus (water on the brain). Nelia and Andrew were given little hope for her survival. "The doctors were taking a long time reading the ultrasound," said Nelia. "That's how we knew something was wrong."

Grace was born on February 14, 2008, and received a shunt operation which proved very successful. "For the first two months of her life, she was like any other newborn," Nelia recalled. After that, Grace began to lose control of her eyes, and signs of constant seizures were apparent. Nelia and Andrew spent 40 days at BC Children's Hospital by Grace's bedside until September 11, when she stopped breathing. "At that point, the doctors at Children's suggested Canuck Place for end of life care."
"I think for me you know Canuck Place is tri-fold," Nelia told me over the phone. "They're there for end of life care, they're there to help with symptom management and they're also there for respite and I've been blessed to be part of all three. I think more-so for me Canuck Place was a haven in the storm and I think when you're in the fight of your life, for your child, and everything is kind of at the worst it can be, Canuck Place is like that lighthouse."
It's been several years that the family has been without baby Grace but Nelia says that even now, Canuck Place continues to be that haven for her children. "They are revisiting their grief and they're entering new stages as they're getting older and asking us questions."
Nelia emailed one of the counsellors at Canuck Place recently to see if they could come in for play therapy. "Because my kids miss Canuck Place and my son was only two and a half at the time when Gracie passed away. He can't remember her but he feels close to her at Canuck Place. And so he just asked us last week."
"I mean that's something you can't put a price on although they provide respite and they do all those wonderful things. I mean there's something really, really special about Canuck Place that can take an experience of losing a sibling at two and a half and still now at seven years old remembering Canuck Place with a longing and a joy to return so that they can take such a negative experience and it then becomes positive."
Based on her experience, Nelia has been compelled to speak out on behalf of Canuck Place, to help other parents and families. "Very early on I felt just this overwhelming feeling of 'I want to be an advocate'. I want to be an advocate for families that feel like they're alone and when you're walking through such a dark valley it's really hard to relate to real life. Maybe friends of yours that talking about being up late with their babies and changing diapers, which is all normal and great but when you're dealing with g-tubes and trachs and really difficult life-threatening things that your own child is going through you can often feel alone."
"You're in that storm and you can't even see front from back and you see that light and it's just that reprieve. I would say that Canuck Place more than anything was a haven for our family."
There is a camaraderie that forms between families at Canuck Place but Nelia also wants to reach out to those who could use the care there as well.
"I was so blessed to be connected to Canuck Place and but before that, I felt so alone, I felt isolated. Grace was someone that didn't fit a mold, she was constantly doing the opposite of what they thought she would do so I just often felt alone and Canuck Place really just supported us and came on our side. They brought that feeling of support and that I wasn't alone. So I think for me it's just kind of paying that forward and being an advocate to maybe people that are in a similar situation."
"If I could look back now and if I could have been connected with Canuck Place from the moment Gracie was born, I can only imagine how much greater my life would have been in that time, how much less stress I would have had. I would have been able to put more energy into Grace."
Throughout her experience years ago Nelia also started a blog as a journal, to keep family and friends informed and also to use as a therapeutic outlet for herself. She emphasizes that grief comes in many forms and is far-reaching, it's not just from a loss of life but also in relationships, loss of a job, and so on. "I think [the blog] kind of morphed from just my story of Grace, my desire to sing her song," Nelia added that people will know of Grace years from now, her own kids will be able to go back and have that documentation and journal of what the family went through, and others can learn from it as well. "It's so nice to know that someone else is going through, and understands, what you are going through."
Nelia has been in touch with other families and one of the main points she stresses is that Canuck Place is not just palliative care. "I think a lot of people have that idea of you know, that's where children go to die. But it's so, so, so much more than that! So, being able to encourage families to take that leap of faith, meet with Canuck Place — and it will make a world of difference."

What I took away from our phone call, aside from the fact that Nelia is an incredibly strong and inspirational mother, is that the care and support of Canuck Place is long-lasting. There are relationships that are formed in time of need that extend beyond a family's stay and by doing this, families can even support other families, creating an even bigger blanket of comfort for generations.
You can support Canuck Place and the Gift of Time Gala by donating online and sharing Nelia's message, which is just one of many lives touched by the organization's care and support.
Miss604 is proud to be the exclusive social media sponsor of the Gift of Time Gala.