Vancouver is a city of runners — of all levels — and our sidewalks, Seawall paths, and forest trails are well-traveled. We're fortunate enough to have a variety of running events offered each season and the next big one is the SeaWheeze Half Marathon along with the Sunset Festival.
SeaWheeze Half Marathon
What: A 21.1km half marathon around Downtown Vancouver and Kitsilano.
Where: The run starts and finishes near the Olympic Cauldron at West Cordova and Thurlow, outside of the Vancouver Convention Centre.
When: Saturday, August 10, 2013 with the Half Marathon starting at 7:00am. All runners will finish the course by 12:15pm (with a strict 12:30pm course closure).
Road Closures: There will be road closures in Chinatown, Coal Harbour, Downtown, West End, and along the Seawall. A full list is available online.
The SeaWheeze Half Marathon will take place August 10th and it's already sold out however you can still join in the fun at the Sunset Festival with music, yoga, a showcase store, and more all open to the public.
SeaWheeze Showcase Store
The SeaWheeze Showcase Store is a 28,000 square foot space full of exclusive SeaWheeze product available only on SeaWheeze weekend. It will be located at the Vancouver Convention Centre on Friday, August 9th (8:00am to 9:00pm) and Saturday, August 10th (8:00am to 1:00pm).
SeaWheeze Yoga
Join a free yoga class with 500-5,000 other yogis at Jack Poole Plaza on Friday, August 9th from 12:00pm to 1:00pm, or on Kits Beach from 7:30pm to 8:30pm.
SeeWheeze Sunset Festival
SeaWheeze finishers and the public are invited to the Sunset Festival with yoga, food, live music, beer garden, and more at Brockton Oval in Stanley Park. Gates are open from 4:30pm until 10:15pm on Saturday, August 10th. Tickets are available online for $25.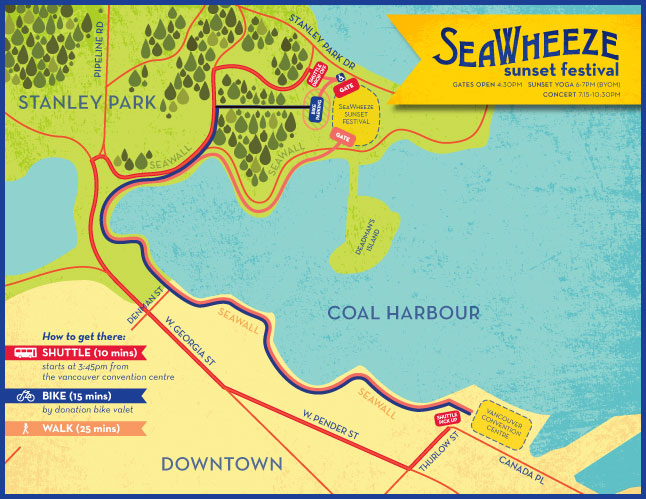 No parking will be available so you can either take transit into Stanley Park and walk over or walk all the way over from downtown (it's not that far!). A shuttle will also be running from the finish line over to the festival location and there will be bike parking by donation.
At 4:30pm you can BYOM (Bring Your Own Mat) for some yoga ahead of the evening's entertainment. The live concert will begin at 7:15pm with Passenger followed by Xavier Rudd.
Download the SeaWheeze iPhone App for more route, run, and event information.