Back in June the We Heart Local Awards were looking for nominees to recognize and award key players throughout BC's food and agriculture industry. Now that the nomination process has closed, the public vote has begun.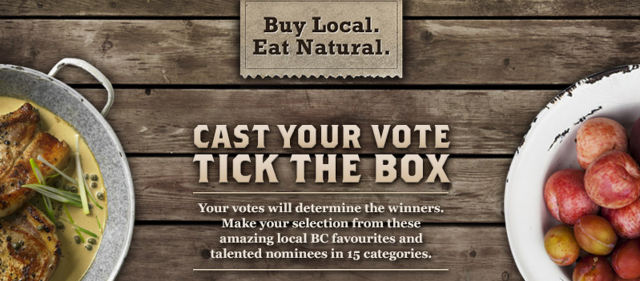 Voting is open now until August 5th, 2013. Anyone living in BC can vote for their favourite nominees in the categories listed below by visiting the Facebook campaign page. All voters and nominators are automatically included into a prize draw, for a chance to win 1 of 20 $100 gift cards to their local Farmers Market, as well as the deluxe prize: a weekend wine getaway in the Okanagan.
Categories
We Heart Local Award Categories:
Favourite Store to Buy Local
Favourite BC Farmers Market
Favourite Local Meat or Poultry Supplier
Favourite Local Seafood Supplier
Favourite Local Cheese Maker
Favourite Local Sweet Treat
Favourite Local Advocate
Favourite Local Winery
Favourite Local Brewery
Favourite Local Food Truck
Favourite Local U-Pick Farm
Favourite Local Orchard/Fruit Supplier
Favourite Local Restaurant or Café
Favourite Local Chef
Favourite Local Florist or Greenhouse
The celebration of local BC farming communities and the 'Buy Local. Eat Natural.' movement are actively supported by formal organizations such as the British Columbia Dairy Association (BCDA), British Columbia Agriculture Council (BCAC) and British Columbia Ministry of Agriculture. Partners for the We Heart Local Awards are BC Association of Farmers' Markets, Vancouver Farmers Markets, Georgia Straight and Loco.
Be sure to get your votes in by August 5th. Follow 'Buy Local. Eat Natural.' on Facebook and Twitter for more information about the awards and their other initiatives across BC.