Emerging Canadian short filmmakers will have the chance to showcase their work on Air Canada flights around the world from August 1st to December 31st as a part of the enRoute Film Festival. 16 selected shorts will be announced at a public screening in Vancouver at the end of July.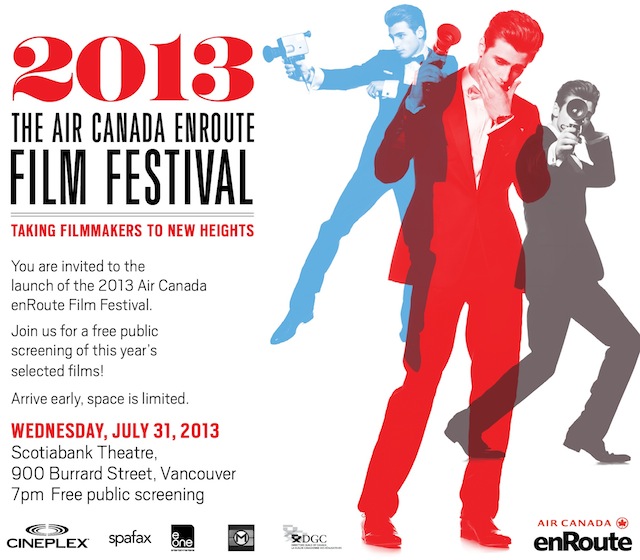 What: enRoute Film Festival public screening
Where: Scotiabank Theatre in downtown Vancouver (Burrard at Smithe)
When: Wednesday, July 31, 2013 at 7:00pm
Tickets: The public screening is free but arrive early to secure your seats.
Following the announcement, the films will then be eligible for awards in the following categories: Best Short Film, Achievement in Direction, Achievement in Cinematography, and Achievement in Animation.
Winners, selected by a star-studded jury, will be announced after a screening event in Toronto in November. Each will receive an all-inclusive trip for two to the Sundance Film Festival in Salt Lake City, Utah, courtesy of Air Canada. The winner of Best Short Film will also receive $5,000 courtesy of presenting sponsor Cineplex.
Millions of Air Canada passengers will be able to view the selected short films on their personal seatback in-flight entertainment system this summer. Passengers and movie-lovers alike will have the chance to vote for their favourite film to win the People's Choice Award throughout the month of August as well.
To support the enRoute Film Festival and its selected films, follow along on Twitter (and the tag #EFF2013), and Facebook.