There will be over 35 free workshops around town on Saturday, June 15th as a part of the 4th annual Vancouver Draw Down. These events challenge everyone to channel their creative side, no matter what your age or skill level, and just have fun with putting pen to paper. The day will see various arts and cultural organizations hands-on drawing workshops in community centres, parks, schools, art galleries, cemeteries, and on the street.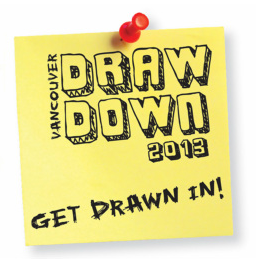 You can create a flipbook, do a diorama, draw with an iPhone, create your own pigments, design a hotel, participate in inventing creatures never before seen, generate a moving mural, draw with massive crayons, and much more. The workshops are designed with a come-and-go atmosphere, and participants are encouraged to move around to different events throughout the day. All workshops are open, inclusive, and free (or free with admission).
Every community centre in Vancouver is also participating so you can visit one near you or get to as many as you can in the day. Other locations include ArtStarts in Schools, Collage Collage, Contemporary Art Gallery, the Main Street Poodle, Emily Carr University of Art + Design, Mount Pleasant Neighbourhood House, Mountain View Cemetery, Satellite Gallery, UBC Learning Exchange, and the Vancouver Art Gallery.
Do Collaborative Strathcona Dragon Drawing (10:00am and 12:00pm), check out the Comic Jam at Mount Pleasant (10:30am to 12:30pm), do Straight Line Scribbles at The Gathering Place (12:00pm to 2:00pm), Blind Countour Drawing at Renfrew (11:00am to 1:00pm), and much more. As a sponsor, Vancouver is Awesome has been profiling participating artists in an online series to get you excited about some of the talented people you could meet this weekend.
Follow Vancouver Draw Down on Facebook and Twitter for updates and check out the full schedule of events online.