While I love a crisp, drizzly Vancouver morning sometimes it takes all of my might to slide out of bed and walk over to my computer, never mind running downstairs and down the block for a hot cup of coffee. Having a brewing system in-house is definitely handy.
We have a Keurig system (that does hot or cold beverages) and now there's a new Keurig MINI Plus Brewing System, for small homes, vacation homes or even right on your desk at work. This mini system produces three different cup sizes, in under two minutes, and comes in several fabulous colours: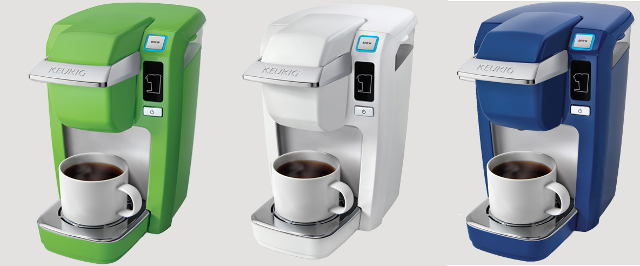 Flash (Lime) Green: Though emerald may have been 'anointed' colour of the year by Pantone, flash green, a shade of lime, was the real trendsetter on runways including Stella McCartney, DVF and many more.
White: There is nothing sleeker than white on white, particularly in the warm weather.
Cobalt Blue: Historically, cobalt blue's elegant power has been seen on everything from Chinese Porcelain to Bristol Glass. The hue is back in force on the runways.
This system (retail: $99) uses Keurig K-Cups which come in over 100 varieties of coffee, tea, cocoa, fresh apple cider and more. It's also officially summer now and while it's a bit dreary today, the hot weather is certainly on its way. When it does arrive, you can brew up K-Cup Iced Beverages with a Keurig MINI too like French Vanilla Iced Coffee, Iced Tea, and Lemonade Iced Tea.
I have three Keurig MINI Plus Brewing Systems to give away, one in each colour (cobalt blue, white, lime green). Here's how you can enter to win:
Leave a comment naming the colour you would prefer or a drink (hot or cold) that you would prepare with the Keurig MINI (1 entry)
Post the following on Twitter (1 entry)
RT to enter to win a @Keurig MINI Plus Brewing System from @Miss604 http://ow.ly/mdJTN
I will draw three winners at random from all entries at 12:00pm on Friday, June 28, 2013. Follow Keurig on Twitter and Facebook to learn more about their brewing systems and iced beverage options this summer.
Update The winners are: Brandon (Blue), Sarah Carol Anne (White), @KimikoGilbert (Green).