Two local women, Joanne Greenwood (President and Co-Founder of Bully Free Zone Canada) and Susan Gable (Yellow Balloon Photography), started a unique anti-bullying campaign, Be BOLD, back in April and since that time it has caught on around the globe.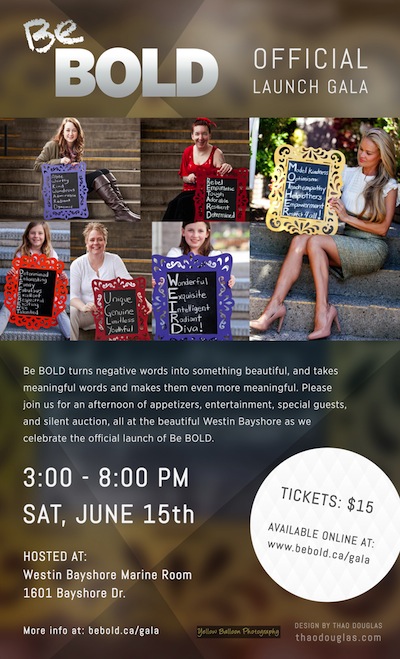 They put together anti-bullying messaging through photography that has individuals holding framed chalkboards featuring one word turned into an anagram that relays a brave, positive, and empowering message.
The campaign started with just one photo of Joanne, taken by Susan, and the theme has been catching on, garnering more Be Bold photos and messages from young and old, musicians, athletes, artists, and local celebrities.
While Be BOLD is still fairly new, they're moving quickly to reach more communities around the province and host public photo shoots. At these events you can put your message on their signature frame and get your photo taken by donation. Proceeds are contributed to the Amanda Todd Legacy Fund. You can check out the events page for information about public photo shoots.
The first Be Bold Gala will also be held this Saturday, June 15, 2013 at the Westin Bayshore's Marine Room from 3:00pm to 8:00pm. Tickets are available online for just $15. Here you can learn more about the campaign, get your photo taken with your message, enjoy appetizers, entertainment, and a silent auction.
For more information about Be BOLD, follow the campaign on Facebook and Twitter.