Victory Square Park will be the site of a free, family-friendly community festival as it Central City Foundation hosts Fair in the Square next weekend.
Celebrate your neighbours in the inner city, from dozens of social enterprises, artists and community organizations to terrific local bands and musical artists, who will donate their talents to entertain us from the Victory Park stage.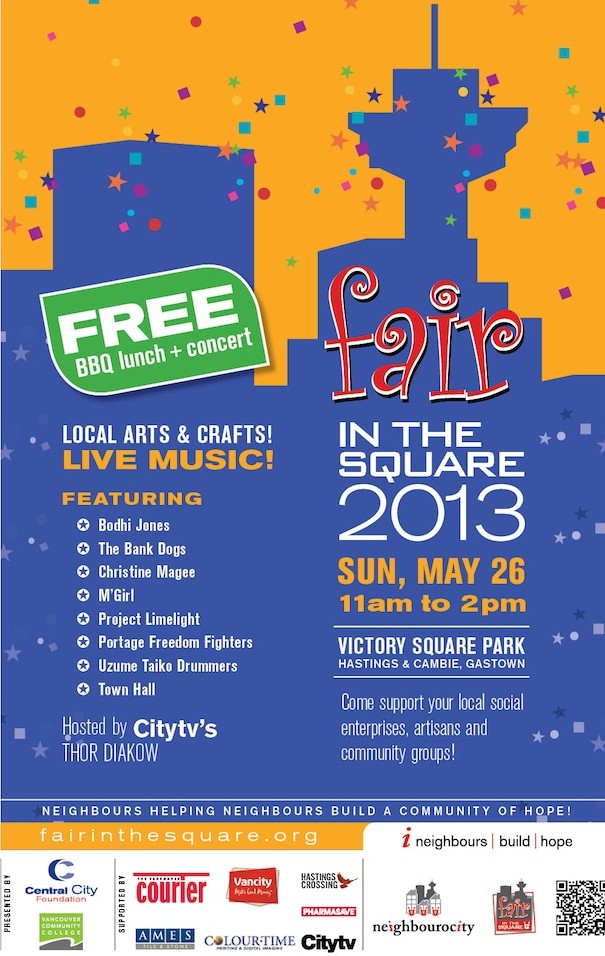 Fair in the Square will have free food, music, a craft market, and offer good times with neighbours and community members. Several community organizations will also have booths on site, from Boys and Girls Clubs to the Downtown Eastside Women's Centre, Aunt Leah's, and more.
A BBQ, cupcakes, beverages, and more will be served up by faculty, staff and students from Vancouver Community College's Culinary Arts program.
Stop by Victory Square (Hastings at Cambie) to partake in the fun from 11:00am to 2:00pm on Sunday, May 26, 2013. The day will be hosted by CITY TV's Thor Diakow and musical guests include singer-songwriters Christine Magee and Bodhi Jones, teen rockers The Bank Dogs, children from the performance group at Project Limelight, Aboriginal women's group M'Girl, Uzume Taiko Drummers, the Town Hall, the Portage Freedom Fighters.
Central City Foundation has been around for over 100 years. "With your support, Central City Foundation is able to provide grants and assistance to a wide range of inner city organizations whose programs and activities enhance the lives of men, women, children and families in need in the inner city."