In this digital age, with all of our smartphones, computers, tablets and gadgets that help us get things done, a lot of time can be wasted when we don't know how to use the tools available — or we get caught up by distractions. That's where Steve Dotto ("Canada's Favourite Geek") comes in. He's hosting a ProTECHtivity workshop next week to "deal with the productivity paradox, the fact that the pursuit of productivity often gets in the way of actually getting things done."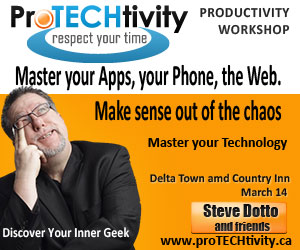 Covering everything from time and contact management, project management, document management, through email and calendars to organization. ProTECHtivity shows you the best apps, the best techniques and the best ways to become far more productive than every before. You will learn to use your smartphone (any flavour) and computer, integrate the best apps and procedures to make sure you are in control of your life, and in control of your tech.
Steve has assembled a roster of speakers including Mike Vardy from Victoria, whom I have seen speak at conference before, who is a master of being productive and using your time wisely. Other guests include Brooks Duncan (Paperless Office), Darci Larocque (Everything and the Kitchen Sync), Deborah Kriger (Stop Wasting Time On Social Media), and Eileen Reppenhagen (Too Much Paper, Never EnoughTime).
The Protechtivity Workshop will take place Thursday, March 14, 2013 from 8:30am to 4:30pm at the Delta Town and Country Inn. The full day of sessions will include talks from these top productivity experts about The Paperless Office, Sync Your World, Time and Idea Management, Everything in Evernote, and email and task management.
I've had the pleasure of being on Dotto Tech (Steve's radio tech talk show on AM650) so he's given me a discount code to provide my readers. Regular tickets are $199 plus fees but you can use the special code miss604guest to get a 20% discount. Just enter the code on the registration page where it says "Enter Promotional Code" under the ticket options.
Follow @DottoTech on Twitter and Protechtivity on Facebook for more information about this workshop and upcoming events.