Put on your dancing shoes and get that Guinness flowing, CelticFest Vancouver is coming up March 9th to March 17th with activities, concerts, a parade, dancers, and free family fun.

Festival Highlights
Festivities begin on Saturday, March 9th, 2013 at the Village on False Creek (plaza at Manitoba St & Athlete's Way) from 12:00pm to 5:00pm. This is a free family-friendly event with live music, food, entertainers, and more.
There's another kick-off that day over at Vancouver Fan Club on Granville (for those 19+) at 7:00pm. Tickets are currently available for the showcase that will include Brendan Grace, Ireland's Grand Master of Comedy.
Enjoy A Whisky Kiss on Wednesday, March 13th with the 7th Annual Scotch-tasting at CelticFest Vancouver. It will take place at 6:00pm at The Cellar (just below Doolin's) on Granville at Nelson.
On Thursday, March 14th catch a double-bill concert at the Vogue with Cape Breton's Mary Jane Lamond & Wendy MacIsaac, and Scotland's Maeve Mackinnon. The Town Pants will play VENUE on Friday, March 15th and Vancouver FanClub will host the CelticFest Ceilidh on Saturday, March 16th.
St. Patrick's Day Parade
The 9th annual St. Patrick's Day Parade will take place on Sunday, March 17th, 2013 at 11:00am, starting out from Howe and Davie, proceeding north on Howe to Georgia, and ending at Georgia and Granville. On Granville between Robson and Nelson you'll find the free Mahony & Sons Celtic Village on Saturday (11:00am to 6:00pm) and Sunday (10:00am to 5:00pm) with Doolin's Music Stage, Kids' Celtic Corner, Tom Lee Music Workshops, a street market, food, roving characters and more.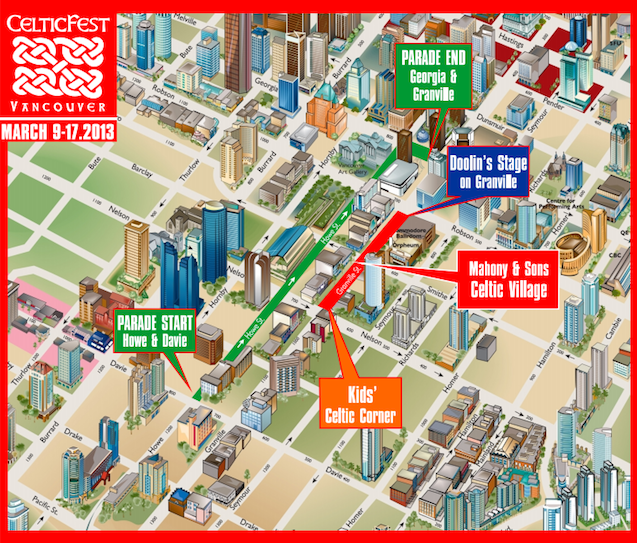 Watch for road closures downtown between 8:00am and 2:00pm that weekend and check for bus re-routes via Translink. Follow CelticFest Vancouver on Facebook and Twitter for all activities and event information.