WE Vancouver's Best of the City issue is now out for the week and I'm very honoured to not only be voted Best Local Blog but to also grace the cover of the newspaper.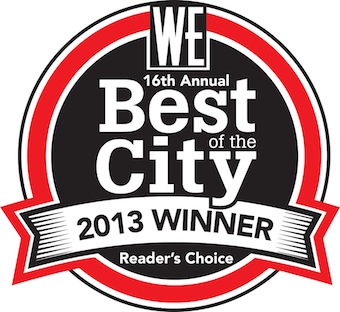 The Endless Meal took second place for Best Local Blog and Vancouver is Awesome had their first placing in the WE Vancouver Best of the City, coming in third. The Best Local Podcast recipient is Stop Podcasting Yourself with Caustic Soda as the runner up and CBC placing third.
The Best of the City categories are services; culture, people and sport; life; food; after dark; and shopping. Other recipients of top readers' choice honours include but are not limited to:
A special mention goes to Shalon Jackson of the Best Hair Salon, Hype Hair Studio (2695 West 4th), for curling my hair and doing the cover shoot with me. Click on the category listings above to see all of the winners and runners up in each section.
Thank you to all who voted this year, it means so much to have the support of my readers! This is the 15th annual Best of the City issue with all results determined by readers' votes. Follow WE Vancouver (formerly the Westender) on Facebook and Twitter to receive their daily news, entertainment, lifestyle, and city coverage.