National Cupcake Day is coming on February 25th and to make the occasion that much sweeter, it's actually all for a great cause. If you're a cupcake baker with a big heart you can sign up to host an online bakery page where cupcakes orders can be tracked and your can organize your own National Cupcake Day party. The goal of the campaign is to support the Ontario SPCA and the BC SPCA. Proceeds will help give a surrendered puppy a home, rescue a neglected pony, provide emergency surgery to an injured kitten and save thousands of lives.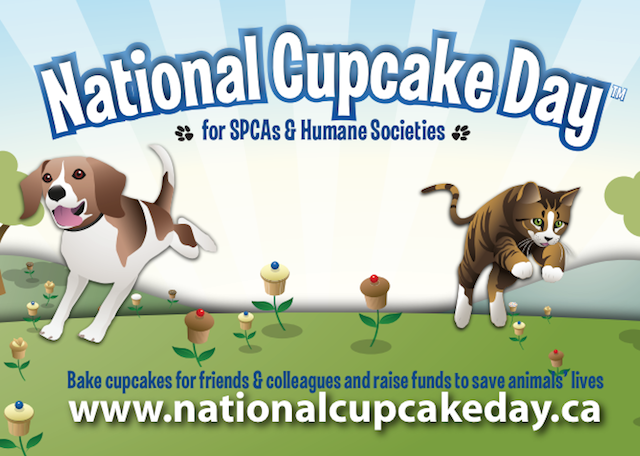 Here's how you can get involved:
Wait for your host kit to arrive in the mail or download it here
Personalize your Online Bakery and send it out to the world
Encourage friends and family to support you by donating online
Bake cupcakes
Hold a National Cupcake Day party and collect donations
Show off your creations to the world via Facebook, Twitter and Pinterest
Send in the donations collected at your National Cupcake Day party to the Ontario SPCA (for eastern Canada) or the BC SPCA (for western Canada) by March 18th. You can also donate online to support a campaign if you're not hosting your own National Cupcake Day party.
Follow National Cupcake Day on Facebook, Twitter, and Pinterest for more information about the event, fundraising tips, cupcake ideas, and more.