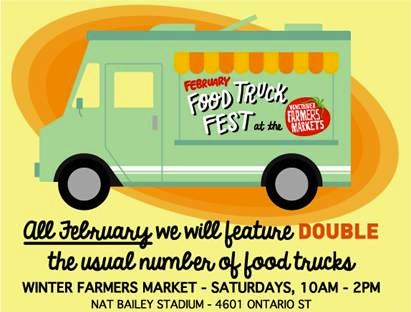 Despite the fog and rain, Vancouver Farmers Markets are still going strong this winter as they setup every Saturday outside Nat Bailey Stadium. For the month of February they'll be trying something new by adding a Food Truck Festival – doubling their regular number of food trucks.
Visitors are invited to vote on their favourite "new recruit" food trucks and the top selections will be invited to join the roster as regulars at the busy summer markets. There will also be live music, covered seating, and the usual fresh, local offerings that you can find at the market each week.
Food Truck Festival: New Recruits
Food Truck Festival: Market Regulars
Blue Smoke BBQ, Chilitank, Crêperie La Bohème, Eli's Serious Sausage, Vij's Railway Express, Le Tigre, Pig on the Street, Taser Grilled Cheese, The Kaboom Box, Transylvania Fresh.
Stop by the Vancouver Farmers Market (winter market until April 27, 2013) at Nat Bailey Stadium, 4601 Ontario Street. The new food trucks will be there starting Saturday, February 2, 2013. Follow the market on Facebook and Twitter for market information and updates throughout the year.