Be Coconut Water has offered up a special contest with Miss604 to promote the all-natural refreshment that comes from coconut water. Some enjoy it on a hot day or add it as an ingredient when cooking, while others might chug it to power up after yoga. I know that ever since coconut water came into the spotlight, John has sworn by its powers to rejuvenate after a hard workout thanks to naturally occurring electrolytes and potassium.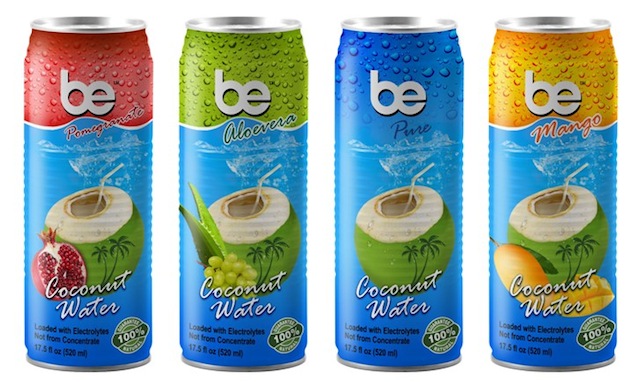 Packed with vitamins, you can get varieties of coconut water from Be Coconut Water that include Be Pure Coconut Water, Be Pomegranate Coconut, Water, Be Mango Coconut Water, and Be Aloe Coconut Water. These all contain natural fruit juices and do not not contain added sugar or fat, cholesterol, or gluten.
You can even cook with coconut water, just look up some recipes on Be Coconut's website. Dishes like raw avocado coconut water soup, butternut squash quinoa soup, chocolate and banana coconut water pancakes, coconut water mojitos, and more.
In Vancouver, you can pick up Be Coconut Water at Urban Fare, London Drugs, Nesters Market, Buy-Low Foods, Meinhardt, Pharmasave, Stongs, Famous Foods, Donald's Market, and Pure Integrative Pharmacy.
The prize package offered up by Be Coconut Water includes a 3-month supply* (any flavour) and a 3-month membership to Bikram Yoga Burnaby — "Bikram Yoga is a series of 26 postures and 2 breathing exercises. Each posture stretches and strengthens specific muscles, ligaments, tendons and joints needed for the next posture. The Bikram method also stimulates the organs, glands, and nerves moving fresh oxygenated blood to 100% of the body helping to restore all systems to a healthy working order. Bikram Yoga Burnaby provides a beautiful physical space offering first class amenities combined with high quality Bikram Yoga instructors."
Here's how you can enter to win this prize to try out some coconut water AND yoga in the coming months:
Leave a comment on this post (1 entry)
Post the following on Twitter (1 entry)
RT to enter to win 3 months of yoga @BikramBurnaby & @BeCoconut coconut water from @Miss604 http://ow.ly/h4jRa
I will draw one winner at random from all entries on Monday, January 28, 2013 at 12:00pm. Learn more about Be Coconut Water on Facebook, Pinterest or Twitter. Follow Bikram Yoga Burnaby on Facebook and Twitter too.
*4 cases of Be Coconut Water (Pure, Mango, Pomegranate, Aloe, or a mixture). Each case contains twenty-four 520ml cans. Recommended daily intake is 1 can per day.
Update The winner is Cyndi!