The 3rd Annual Community Christmas Craft Fair, supporting Downtown Eastside women, returns Saturday, December 15, 2012 at Woodward's.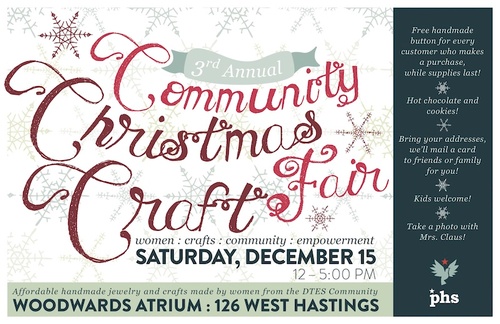 The crafters are women who have been going through drug treatment, living in shelters, accessing drop-in centres, and living in the neighbourhood.
The women have spent one day a week crafting this fall (at the Window Community Art Shop, the Rainier Women's Treatment Center, and the Drug Users Resource Centre) in the hopes of selling their creations at the fair.
Crafts are affordably priced (over 80% are under $20) and tables at the Community Christmas Craft Fair are free to the vendors so proceeds from purchases go directly to them. Every customer who makes a purchase receives a free gift (while supplies last), mail out a greeting for free at the holiday card table, enjoy hot chocolate, bring the kids, and Mrs. Claus will be on hand to supervise — and pose for photos. You can also bring a donation to contribute to holiday gifts for the homeless and marginally housed community members this season.
Stop by the fair at Woodward's (126 West Hastings) in the atrium between London Drugs and Nesters. It will be open from 12:00pm until 5:00pm on Saturday, December 15, 2012. Follow the Community Christmas Craft Fair on Facebook and Twitter for more information.