Vancouver Celebrates Diwali, celebrating one of the most important holidays on the South Asian calendar, has returned for its ninth year with workshops, performances, and festivities from November 3rd to 10th. The theme of this year's festival is "Illumination" along with the slogan "Light Your Spirit" as it brings friends and families together to learn the true meaning and spirit of Diwali.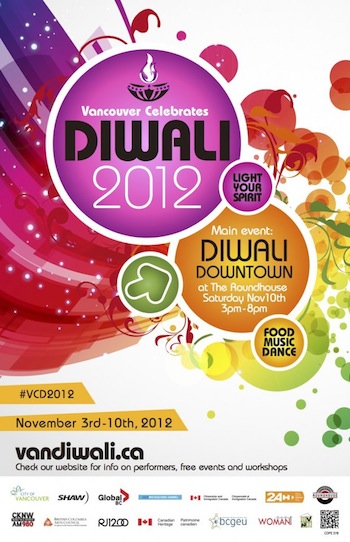 Workshops
Date: Tuesday, November 6, 2012
Time: 5:00pm to 7:00pm
Where: Sunset Community Centre
(6810 Main St)
Date: Wednesday, November 7, 2012
Time: 4:30pm to 6:30pm
Where: West End Community Centre
(870 Denman St)
Diwali Downtown
Date: Saturday, November 10, 2012
Time: 3:00pm to 8:00pm
Where: Roundhouse Community Centre
(181 Roundhouse Mews)
Take SkyTrain to Roundhouse Station on the Canada Line. Admission is by donation (suggested $5).
Main stage performers at Diwali Downtown include Chania Chokries, Merlyn Prakash, PANJ Girls Bhangra, Sangeeta Maruti Arts, Amika Kushwaha & Cassius Khan, Lapis, Kathak & Flamenco Combo, DJ A-SLAM + Kytami, Vancity Bhangra, Shiamak's Bollywood Dance Team, and a big outdoor finale with Sticks N' Skins.
There will be a dance workshop at 5:30, and food available from Vij's Railway Express, Flavors of Fiji, and Spice It Up. Craft vendors include Peggie Amer, Amrit Fashions, Jhilmil Fashions, Alicia's World Gifts, and Diwali Greeting Cards along with diya painting, henna and a room-sized rangoli built by the audience.
Follow Vancouver Celebrates Diwali on Facebook and Twitter for more event information.