Growing up, my family would spend time together hiking at parks, on Sunday drives, or exploring historical sites and museums across the province. I love feeding my brain and learning about a place, an event, art, and science. Last weekend John and I went to Bellingham for the open house and grand re-opening of the SPARK Museum of Electrical Invention (formerly the American Museum of Radio and Electricity). Given that John is a broadcast engineer, it was a trip we were both very excited to make.
Located on Bay Street just off Holly in downtown Bellingham, the SPARK Museum was packed that day. Free admission (although a donation jar was filling up quickly) and $5 to watch the SPARK Electrical Show with the MegaZapper — one of the largest Tesla coils in the country.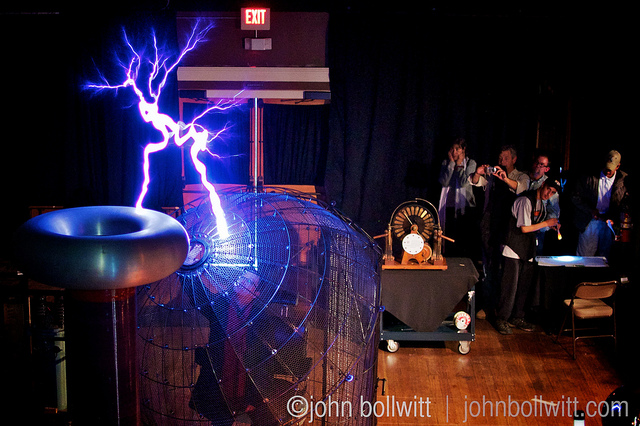 The show was sold out by the time we arrived so we made our way through the collections which were in chronological order:
SPARK has one of the world's largest displays of early 18th and 19th century electrical inventions. From friction machines and coils to the first dial telephone and a theramin, there were so many pieces to look at — and touch. They also have a full replica of the Titanic's radio room (with an original marconi wireless set) and more than 30,000 vacuum tubes on display.
We were also impressed to find a radio station broadcasting from inside the museum, although we shouldn't have been that surprised. 102.3 KMRE community radio which has been operated by the museum since 2005.
There was a room for small experiments (like a fuzzy wall to which you can stick balloons using static) and the SPARK Lab upstairs is an educational space where children can take part in workshops. SPARK = Science-Powered Adventures for Real Kids. They can create steampunk and cyberpunk artwork, construct electronic kits, or deconstruct one electrical piece to make another — how cool is that? SPARK Labs are offered on Wednesdays and Saturday so that kids can learn hands-on about the fundamentals of electricity, using tools and safety.
The vision for the SPARK Museum began back in 1985 when Jonathan Winter put his collection of radio sets and spare parts, along with schematics, recordings, and vintage magazines into a space in Bellingham, naming it the Bellingham Antique Radio Museum.
Over the years, the Bellingham Antique Radio Museum functioned as a gathering place in the community, almost as if it were a radio shop of the 1930s. But it sold nothing. Instead, visitors were offered a unique, hands-on opportunity to visit an earlier time. They could handle vintage radios. They hooked them up, made them work, turned their knobs, and actually experienced the wonder of these and other examples of broadcast and entertainment technology from the early 20th century.
The Bellingham Antique Radio Museum then became a non-profit and John Jenkins, who had his own collection and shared a vision with Winters, signed on as Vice President and Co-Curator. The Bellingham Antique Radio Museum became the American Museum of Radio and Electricity and in 2011 the name was changed to the SPARK Museum of Electrical Invention, in order to better reflect the museum's broader electrical science mission.
You can see, hear, touch, feel, and experience the SPARK Museum for yourself Wednesdays to Sundays from 11:00am to 5:00pm or by appointment. Admission is $6 for adults and $3 for children. It's located at 1312 Bay Street in Bellingham, just 30 minutes south of the border crossing.
We were impressed with how extensive the collections were and that there were activities for kids (there were only a few "no touch" signs) especially the SPARK Lab, which I'd love to do myself. John's eye were lit up like a kid in a candy store the entire time and every now and then he'd call me over to explain another radio component to me (like why old radios have so many knobs) or demonstrate an apparatus. While a lot of the jargon was lost on me, I was simply in awe of what these inventors and innovators created hundreds of years ago and how much their visions have impacted our lives today.
View all of our photos from the museum on Flickr in John's set and my set.