Global Civic Policy Society's next Public Salon is taking place November 7th at the Vancouver Playhouse. The Public Salons, which began in 2009, are hosted every few months and they bring together 7 speakers from 7 different fields who all speak to the crowd for 7 minutes about any topic they like.
A returning soldier has talked about PTSD, a choreographer has talked about community arts and business, an entrepreneur has talked about ice cream. From medical studies to musical numbers, the line-up is always diverse and thought-provoking.
Hosted by former Mayor of Vancouver Sam Sullivan, confirmed speakers for Wednesday, November 7, 2012 are: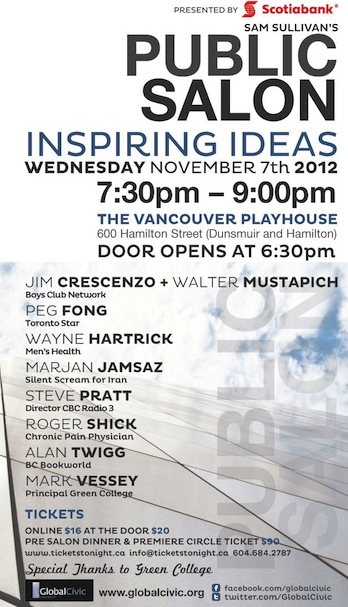 Wayne Hartrick will talk about the challenges of men's health.
Alan Twigg is the director of BC BookWorld who champions BC authors.
Steve Pratt is the director of Digital Music for CBC.
Mark Vessey is the Principal of Green College at UBC.
Marjan Jamsaz is one of the leaders in the 2009 Silent Scream Vigil for Iran.
Peg Fong is a journalist for the Toronto Star writes about Vancouver as if it were a foreign city.
Dr. Roger Shick has spent decades understanding and treating chronic pain.
Walter Mustapich and Jim Crescenzo are steering young boys away from drugs and crime and into self esteem through Boys Club Network.
Videos from past Public Salons are available online in case you would like to check out the format or be inspired by a previous speaker.
Tickets are just $16 in advance and $20 at the door. You can also purchase tickets for a pre-show reception and light dinner for $90. The Hugh Fraser and Campbell Ryga duo will start the evening with jazz from 7:00 to 7:30pm and the event will begin at 7:30pm.