I have experienced the changing leaves in New England first hand, as the countryside puffed up under a colourful patchwork quilt of foliage, but still nothing compares to autumn on the West Coast. Crisp marine air tickles your nose with a hint of sea salt as chestnuts tumble and evergreens collect scattered crumbles of fallen leaves. The wind blows, rain clouds tease, and gumboots get dusted off.


If you're like me, you love getting out and about in the fall. Warm beverage in hand, scarf around the neck, and a camera to capture the hues and patterns of the season. Here are a few recommended spots for taking photos of fall's beauty around the region.
10 Parks for Fall Colours Around Metro Vancouver
Minnekhada Park
Enter off 4400 Oliver Road in Coquitlam. I have yet to check out this gem but John Biehler's been on several photo walks and I know it's a local favourite.
Google Map / Metro Vancouver Park Listing
Queen's Park
Enter off 3rd Avenue or McBride Blvd in New Westminster. The area is beautiful year-round but at this time of year the meadow is naturally overgrown and neighbouring heritage houses will start putting up their beautiful lights for Christmas in a few weeks.
Google Map / New Westminster Parks Listing
Burnaby Lake
Enter off 4519 Piper Avenue in Burnaby. Adjacent to the rush of the Trans Canada Highway, it's a scenic pocket of plant life, birds, and other wildlife.
Google Map / City of Burnaby Park Listing
Campbell Valley Park
Enter off 16th Avenue or 204th Street near the Surrey and Langley Border. Walk along the boardwalk or through the forest trails for some great shots.
Google Map / Metro Vancouver Park Listing

Green Timbers
Enter off 100th Ave between 144th and 148th Street in Surrey for the lake trails. Explore the deep woods of the urban forest or the foliage around the lake.
Google Map / City of Surrey Park Listing
Tynehead Park
Enter off 96th Ave just west of 168th Street in Surrey and check out Serpentine Field, the off-leash area with your pup, or the perimeter trail.
Google Map / Metro Vancouver Park Listing
Queen Elizabeth Park
Enter off Cambie around W 30th or from E 33rd Ave in Vancouver. Filled with flowers and flowering plants the old quarry still comes alive in the fall with evergreens, changing colours, and sweeping views of the city.
Google Map / City of Vancouver Park Listing
Pacific Spirit Park
Access the Park Centre off 16th near Sasamat or 33rd and Camosun for the Camosun Bog. Take your pick of routes throughout over 73kms of trails.
Google Map / Metro Vancouver Park Listing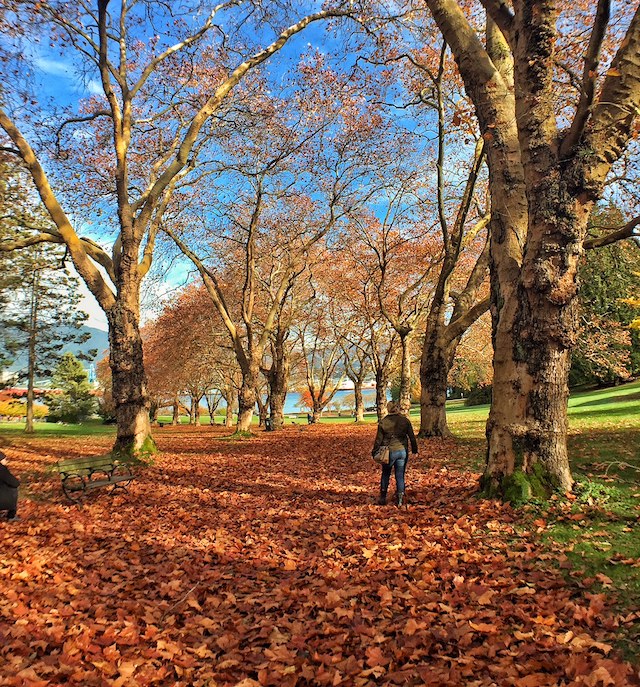 Stanley Park
Enter off West Georgia before the Stanley Park Causeway or exit to Park Drive off the Lions Gate Bridge. The classic, the staple, the must-see park in Vancouver. From the Prospect Point lookout over the narrows to Beaver Lake.
Google Map / City of Vancouver Park Listing
Lynn Headwaters
Enter near the Lynn Canyon Ecology Centre on Park Road or off Lynn Valley Road/Rice Lake Road. Rushing water, a canyon bridge, and 54kms of trails.
Google Map / Metro Vancouver Park Listing
Everything is still pretty green out there but splashes of orange, yellow, and reds will appear over the next few weeks. These parks are just a few suggestions and we're fortunate to have so many great green escapes around here. For more inspiration, check out my Metro Vancouver and Fraser Valley Park series.