Over the last few years I have featured many of gigapixel images captured and processed by Ronnie Miranda of Active Computer Services — from a panoramic view of Vancouver at dusk to a timelapse and even a billion pixel image of the first BC Lions game at BC Place last year.
These images can be taken by anyone with a digital SLR camera and the GigaPan EPIC instrument that Ronnie's company (based locally) has developed. John Biehler even got his hands on one and captured amazing photos of downtown from North Vancouver and the PoCo Trail.
Last year Ronnie used GigaTag for tagging the Game 7 crowd on Georgia street and also the Whitecaps first MLS game at Empire. GigaTag is now being used by SI (Sports Illustrated) for the Olympics.
Existing platforms like GigaTag are Flash-based and each one has its own limitations. Therefore, these don't work on the iPad and Flash will no longer be supported on Android devices beyond Android 4.0.x. However today, GPXtag was launched. It's the new social media tagging platform for gigapixel images.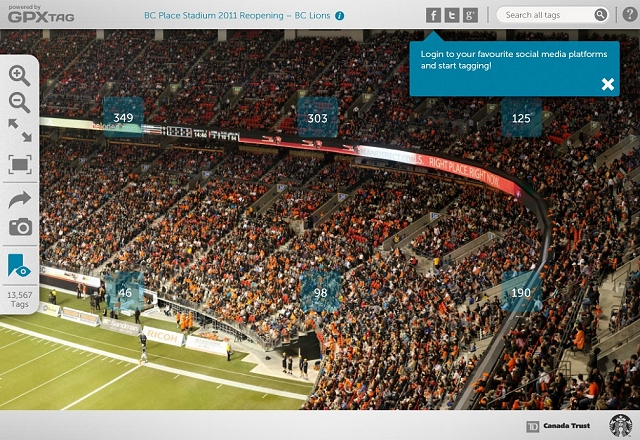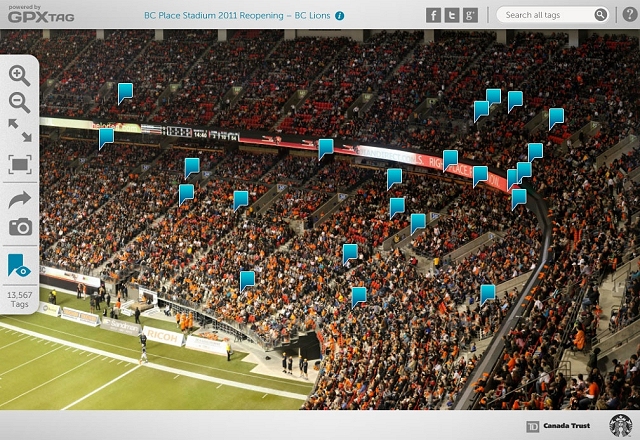 GPXtag has all the features of all existing tagging platforms combined… and more:
Exclusive: FIRST and ONLY non-Flash gigapixel image tagging platform that works on iPad and Android devices
Reach a wider audience by also engaging the growing market of tablet users with interactive gigapixel images
Fully integrated with Facebook and Twitter
Find friends, tag and share on Facebook and Twitter
Exclusive: Include a comment or description in the tag
Exclusive: Search for tags or tagged friends in the gigapixel photo
Filter tags and display only your tags and your friends tags
Capture a snapshot, then post to Facebook and Twitter or send via email
Post or share a URL with the exact coordinates of your current view to Facebook, Twitter or via email
Clean, simple, intuitive, elegant and fun interface
Branding, customizable themes, skins, logos
Optional bar for corporate sponsors, advertisements or announcements
Statistics and reporting
Exclusive: Use for science, education and research purposes. For example, as a medium of instruction where students can identify parts in a photo such as identifying and labeling parts of a plant.
To celebrate the launch of this new technology, developed in BC, Ronnie has offered up a prize pack for one lucky reader. This includes a GigaPan EPIC Pro (value $895) and a GigaPan Backpack ($119).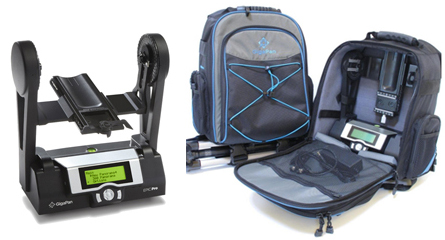 It does not include a camera but will compliment almost any digital SLR camera setup you have already. Ronnie has made this contest international as well so anyone can enter and he'll ship the prize anywhere in the world.
Here's how you can enter to win:
Leave a comment naming what you would capture with the GigaPan system (1 entry)
Post the following on Twitter (1 entry)
RT to enter to win a brand new @GigaPanSystems EPIC Pro & backpack from @activecomp @GPXtag @Miss604 http://ow.ly/cPFoj #gigapixel
Follow Active Computer Services on Twitter, GPXTag on Twitter, and GPXTag on Facebook for more information. I will draw one winner at random from all entries on Monday, August 20, 2012 at 10:00am.
Update The winner is Stefan!