BC Place will be transforming into Canada's largest indoor carnival for spring break this year as it once again becomes PlayDome.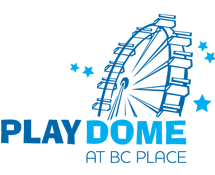 Rides
The 100-foot "Mega Drop" will be joined by 45 other rides like the Zero Gravity spinner, the Ring of Fire, the Super Shot, 1001 Nights, the Ferris Wheel, the Zipper and more. Games, attractions, and a carnival concession will top off the experience.
Hours
PlayDome is only around from Friday, March 16th to Tuesday, March 20th, 2012. It will be open every day from 10:00am to 9:00pm except on the very first day when it will open at 2:00pm.
Tickets
Options include a $25 Dome Pass (valid for all rides), a $6 Guest Pass (required to enter as a spectator), and a $40 Ultimate Pass (multi day Dome Pass). Children under 2 years old are free but cannot go on the rides, for safety reasons. Tickets can be purchased at the door.
In honor of this festive event, the Northern Lights 360 degree light display around BC Place will be illuminated with a colourful carnival theme.
Update I sent John Biehler to BC Place to take some photos during a sneak preview of the carnival.
View more of John's photos in his Flickr set.