It's been five years since CKNW was inspired by the story of two students from Nova Scotia (David Shepherd and Travis Price) who took a stand against bullying by wearing pink shirts to school in protest.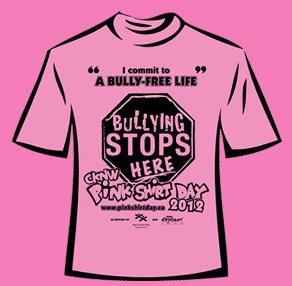 Since that time, the concept of Pink Shirt Day has grown into a national campaign to raise awareness about how harmful bullying can be and that simply isn't acceptable.
There are many forms of bullying, including in the workplace and online, as it isn't limited to the schoolyard. On February 29, 2012, join media personalities, students, teachers, offices, public officials, parents, and children in wearing a pink shirt.
Pink Shirt Day t-shirts are available online or at London Drugs locations across Western Canada. Proceeds from shirt sales will support the Boys & Girls Clubs of South Coast BC and the CKNW Orphans' Fund.
I support Pink Shirt Day and encourage all British Columbians to get involved. On February 29th, Bullying Stops Here. Follow the campaign on Facebook and Twitter for more information and updates.
Update February 2012: Adding this video of the Richmond School District's Pink Shirt Day dance flash mob at Aberdeen Centre. The kids did such a great job!