Vancouver Comicon is happening this weekend at Heritage Hall on Main, where it has been hosted for well over a decade. The event, which is hosted about six times a year, features special guest appearances, art showcases, and of course plenty of graphic novels.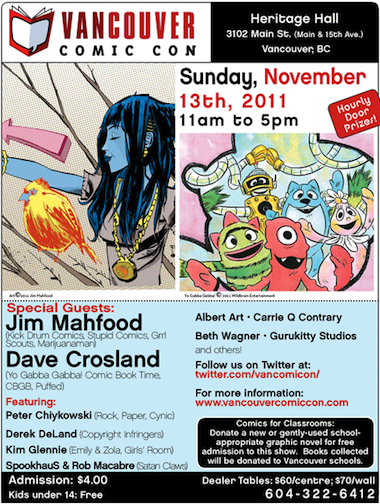 When
Sunday, November 13, 2011, 11:00am to 5:00pm
Where
Heritage Hall, 3102 Main Street (at 15th)
Guests
Jim Mahfood (Kick Drum Comics, Stupid Comics, Grrl Scouts, Marijuanaman), Dave Crosland (Yo Gabba Gabba! Comic Book Time, CBGB, Puffed) with Peter Chiykowski (Rock, Paper, Cynic), Derek DeLand (Copyright Infringers), Kim Glennie (Emily & Zola, Girls' Room), SpookhauS & Rob Macabre (Satan Claws), Albert Art, Carrie Q Contrary, Beth Wagner, Gurukitty Studios and more.
You can book a dealer table or just stop by and check out the scene, do some shopping, meet the guests. Admission is $4 and kids under 14 years of age are free.
Two days before Vancouver Comicon, you can head to the Vancouver Live Art Funk Jam with Jim Mahfood and Dave Crosland. They'll be at The Komik Zoo (at The Hennessey Dining Lounge on West Broadway) from 8:00pm to 11:00pm. Admission to this event is by donation with proceeds benefitting the Comic Legends Legal Defense Fund.
Follow @VanComicon on Twitter for more information.