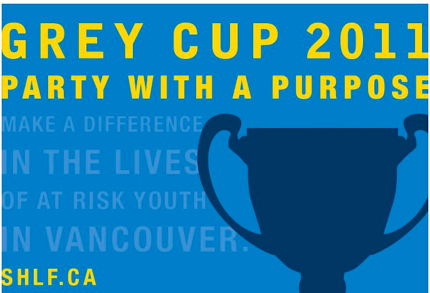 The Strachan Hartley Legacy Foundation ("SHLF") is hosting a 2011 Grey Cup party on Sunday, November 27th. They will be raising funds for their education and sport programs for at-risk youth in Vancouver.
When: Sunday, November 27, 2011
12:00pm (3:30pm is the Grey Cup kick-off)
Where: AuBar at 674 Seymour in Vancouver
Where: *New Venue* The Manchester Public Eatery (1941 W Broadway, Vancouver)
Tickets: Available online for $20.
Your ticket includes a burger and a beer.
All proceeds will go directly to SHLF's programming which includes partnerships with Streetfront Alternative School and the Take a Hike Foundation. SHLF is run by volunteers in Vancouver, Calgary, and Montreal. Find them on Facebook and Twitter.
Must be 19 years of age to attend the Grey Cup party. Please enjoy responsibly and plan a safe ride home.