The Rio Theatre on Broadway (at Commercial) is screening favourite holiday films at midnight, every Friday in December.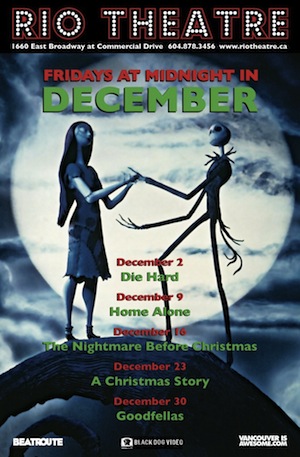 December 2: Die Hard
December 9: Home Alone
December 16: The Nightmare Before Christmas
December 23: A Christmas Story
December 30: Goodfellas
Friday midnight screenings are $8. Those in costume for midnight screenings get $1 off admission so be on the lookout for Ralphie's giant bunny suit or Jack Skellington.
Tonight you can also catch A Very Harold & Kumar Christmas 3D at 7:00pm and 9:15pm for just $5.
The Rio has been in the news lately pushing for a change to the B.C. Liquor Control and Licensing Act that prohibits movie theatres from getting a liquor license. Last week Vancouver–West End MLA Spencer Chandra Herbert announced his support of this move as well.
Follow @RioTheatre on Twitter for special event announcements and news from the theatre.