There was a HootSuite deal today but it's not the one you may have heard rumours about. The makers of the web's most popular communications dashboard acquired another Vancouver-based company called Geotoko that specializes in geo-analytic software.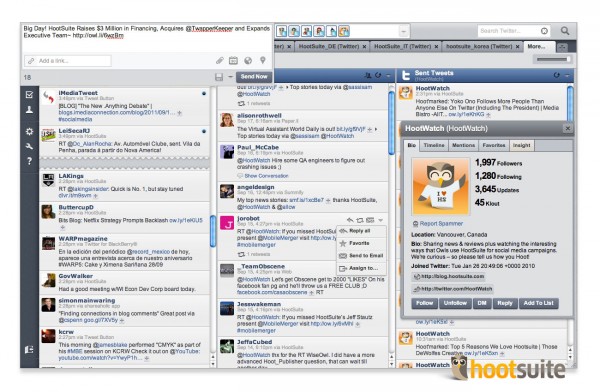 HootSuite is a browser-based Twitter, Facebook, LinkedIn, Ping, WordPress, MySpace, and FourSquare manager with millions of users on its free and premium version. It allows you to manage your social networks, schedule posts, share across various accounts, have team members contribute posts, is available in over a dozen languages, and even offers legitimate social media training through HootSuite University. It's been around since 2008 and was originally called BrightKit.
The "Facebook to acquire HootSuites" rumours started when it was discovered that the social network's Founder, Mark Zuckerberg, was in town. TechVibes posted and article and others ran with their imagination from there. Instead of investigating why Zuckerberg was really in town, everyone chased a more sensational notion – including several radio stations and even the TechVibes story got posted to the Wall Street Journal.
Ryan Holmes, CEO of HootSuite, and @Invoker on Twitter, somewhat addressed the issue by saying they weren't being acquired "anytime soon". However, a few hours later he offered up a teaser on Twitter that an "acquisition announcement" was being made this morning. That got everyone jumping again.
The big news today is that HootSuite expanding their offering to their users. From the HootSuite Blog:
"The Geotoko technology reports on geo-based social media interactions like key influencers, customer sentiment, and demographic patterns to help businesses draw conclusions about audience behavior, as well as help brands reward customers for checking-in via Foursquare and Facebook Places."

"This is HootSuite's fifth acquisition – along with What the Trend, Twapper Keeper, TwitterBar (now HootBar) and Swift App (now HootSuite for Android) – and follows recent news of 3 million in debt bridge financing, LinkedIn Certified Developer program participation, and the advanced Facebook integrations."
Developed in Vancouver, HootSuite is one of the country's most prized start-ups having won a shelf-full of awards for its technology, communications management, and apps (available for iPhone and Android). It's one hot company so really, who wouldn't want to be a part of its rising success? The fact is, they're continuing to grow and lead the social media communications marketplace from their offices over in Railtown, where all the best food trucks seem to park.
The big news headlines about Vancouver-based organizations who are innovative, ahead of the game, and changing how we interact with technology shouldn't just come when they're about to be bought. It should be something that locals recognize and realize. We have some amazing talent in this town (including the folks at Nitobi who were in fact acquired by Adobe) and Vancouver is indeed a hub for startups and social media innovation.