Tomorrow night The Owl & The Pussycat opens at the PAL Studio Theatre in Coal Harbour.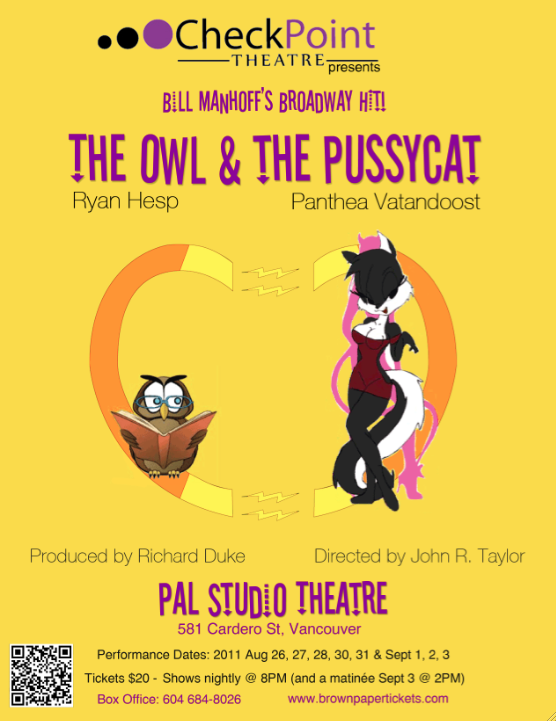 Set in San Francisco, it was written by Bill Manhoff and originally starred Alan Alda and Diana Sands when it opened on Broadway in 1964. It was also made into a film and starred George Segal with Barbra Streisand.
Involving two characters, a bookish Felix and a saucy Doris, the comedy is described as a classic drama and some say it has parallels to 'Who's Afraid of Virginia Woolf'. Two alumni of Vancouver's Actor's Foundry, Steven Roberts and Panthea Vatandoost take on these opposing roles.
Presented by Checkpoint Theatre, formed by Richard Duke, Panthea Vatandoost, and Stephen Roberts, the play will take place at the PAL Theatre. It's a very unique venue within a condo tower downtown.
Tickets are available online for $20 and the show runs nightly at 8:00pm until September 3, 2011. There's nothing like a night of theatre in Vancouver (whatever the venue might be) and the city is ripe with creative and talented people. If you would like to check out this show, I have two pairs of tickets to give away.
Here's how you can enter to win:
Leave a comment on this post with the name of the last play you saw at the theatre in Vancouver (1 entry)
Post the following on Twitter (1 entry)
I entered to win tickets to @CheckPointT's 'Owl & The Pussycat' from @Miss604 http://ow.ly/6cNDm
Tomorrow morning, Friday August 26, 2011 at 9:00am I will draw two winners (who will each get a pair of tickets) for Saturday night's performance. Please note, the suggested audience age is 18+ for mature content.
Update The winners are Brenda & @DaveyBean!