The Canadian Little League Championships are taking place in North Vancouver this year as the best in BC will take on the top teams in the country to see who will move on to the Little League World Series.
Each year more than 40,000 kids and youth across Canada participate in Little League within 5 key regions: Ontario, Quebec, the Maritimes, the Prairies, and BC. You have to hand it to our local programs and clubs as every single BC team (20 in total) has won a Canadian Championship and competed in the Little League World Series at least once. They hold the record for most titles won thanks to notable teams like Trail Little League (5 titles) and Whalley Little League (5 titles).
This past weekend Langley Little League won the provincial championships in Victoria earning them a spot at the Canadians Championships. The national tournament will feature the top teams from each province as well as the host team (Mount Seymour Little League) in a round-robin tournament August 6 to August 13, 2011 at Chris Zuehlke Memorial Park in North Vancouver.
The "Battle of BC" will have our province's top team (Langley) squaring off against the host team (Mount Seymour) on August 13th at 1:00pm.
Our national champions, as-decided at this tournament, will then fly over to Toronto and drive down to Williamsport, Pennsylvania when there Little League World Series will be held August 18 to August 28. Last year Little Mountain Little League won the Provincial Championship in New Westminster and represented BC (and Canada, after winning nationals) at the Little League World Series.
Head out and support our local teams next week in North Vancouver or catch the games on Sportsnet and follow our Canadian Champions to Willamsport later this month.
Update August 9, 2011 You can catch the action on Sportsnet starting at 1:00pm Pacific on Saturday. From the press release: "The final game of the 2011 Canadian Little League Championship will be broadcast on Sportsnet, immediately following Roger's Cup Tennis, Saturday, August 13 at 4:00 pm EDT."
Latest Standings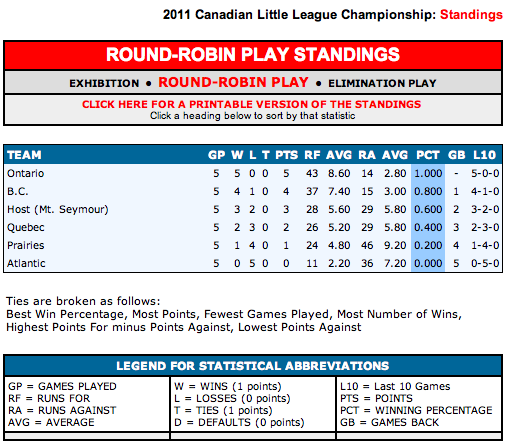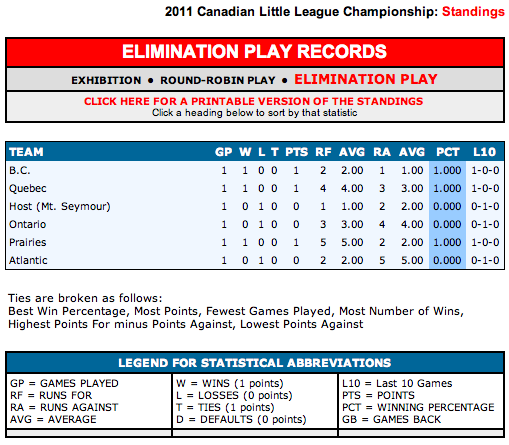 Update August 13, 2011 Team BC, Langley Little League, advances to Williamsport, PA to play as Team Canada in the Little League World Series!