Despite everything that has happened in Vancouver on June 15th, we must remember that there are many wonderful things about this city, like good people producing good art. And though everyone might feel like cocooning in their homes for the next couple of days, I urge you all to get out and see some theatre this week.
Coincidently, this week I'm previewing Alan Bowne's Forty Deuce—which exposes the dark underbelly of another city, New York City. It's a dark and gritty drama about violence, drugs, disenfranchised youth, and the families people make when they don't have any.
"The best way to describe this film is to draw a parallel to early New York films," explains the production's director, local actor Martin Sims. "It's a New York gangster piece, in a sense."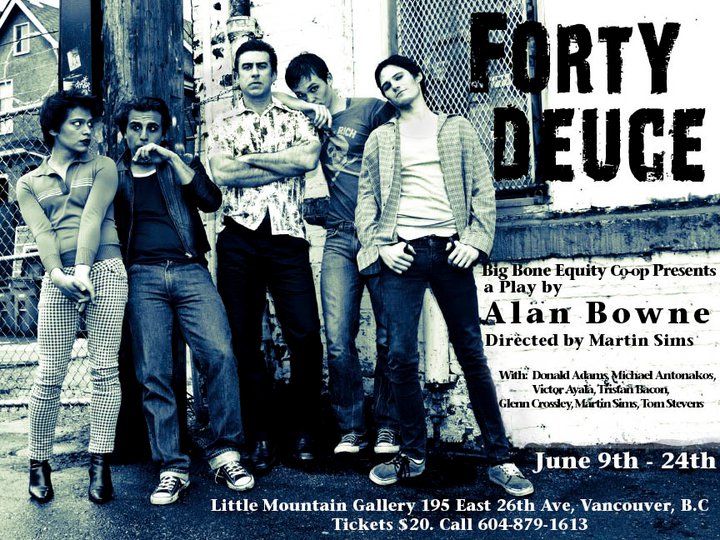 Sims, who most recently was seen on Bard on The Beach as Don Pedro in Much Ado about Northing and Agrippa in Antony and Cleopatra says that one of the aspects that drew him to the play was its Shakespearian qualities.
"The is such beauty, poetry, and complexity to the language " he says. "Though it's 'street talk' and technically English, like Shakespearian English, its a slightly heightened, poetic English."
Sims believes that plays like Forty Deuce offers a lot to a city where musicals and comedies primarily dominate in the larger theatres.
"It's all about having a balanced diet," he says. "It's important to also see something darker, that has some edge to it."
Forty Deuce runs until June 24 at one my favourite off-the-beaten-track spaces, Little Mountain Gallery (195 East 26 Avenue @ Main). Sims will also be performing alongside veteran actor Donald Adams and some newer performs like Michael Antonakos, Victor Atala, Tristan Bacon, Tom Stevens, and Glenn Crossley.
Tickets are $20, and are available at the door or by calling (604) 879-1613.
This feature was written exclusively for Miss604 by actor, writer, and producer, Michelle Kim. Read all posts contributed by Michelle for Miss604.com and follow her on Twitter @miju.