Earlier this month our globetrotting friend Henry brought me a Fred Herzog book from C/O Berlin. Herzog is known for his stunning colour photographs of everyday urban life. At a time when colour photography was looked down upon as an art form or creative medium, Herzog managed to capture our city like no other.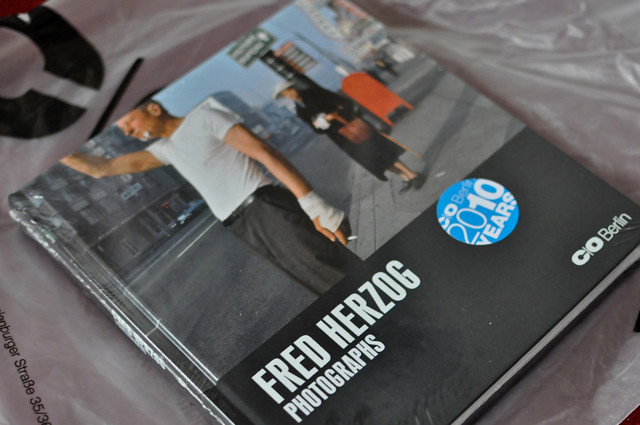 "Life may be colorful, but black-and-white photography is more realistic" or so it was said. For many years, color photography was considered an inferior and not particularly valuable medium. Classic black-and-white photography was undisputed in the art world, but artistic color photography was supposedly banal and amateurish, a commercial medium for dilettantes. In the early 1950s, Fred Herzog began to revolutionize established viewing habits and existing orthodoxies. As a pioneer of color photography, he developed a profound visual sensibility for the ostensibly inconsequential. His subject matter included Vancouver streets, supermarkets, gas stations, bars, urban and natural landscapes and again and again, people in their environments, visualizing the highs and lows of the (North) American dream."

C/O Berlin presents the first German exhibition of 80 photographs by Fred Herzog. A catalog accompanying the exhibition is published by Hatje Canz.
Nowadays, photographers like Kris Krug, PiscesDreamer, Jeremy Lim, Sean Orr, Sean Doe, and other contributors to the Miss604 Flickr Group, manage to immortalize our city through the same kind of 'everyday' snapshots. City, work, child and adult life is still caught on film or digital media cards. A man waiting for a bus, a boy sitting in a shop's doorway, or a woman window shopping — sometimes it's those moments that can tell us the most about our city
Prior to Herzog, my other favourite Vancouver photographers are Stuart Thomson and Leonard Frank. More than half of my favourite photos in the Vancouver Archives collection (from about the 1900s to 1940s) are attributed to those two.
If you would like to check out more of Herzog's work, there will be an exhibit at the Equinox Gallery February 9 until March 5, 2011. From what I understand, the gallery has most of Herzog's collection and exhibits (with different themes) are not uncommon.
You can also purchase the book that I now own on Amazon or at Chapters.