The Celebration of Light fireworks kick off tonight presented by Team USA. While hundreds of thousands will make their way through the West End and down to the shores of English Bay here are some tips for a fun and safe evening that can be enjoyed by all.
Celebration of Light Fireworks: Best Viewing, Road Closures, Transit
Celebration of Light Fireworks Road Closures
On all fireworks days the West End will be closed to traffic except residents (who can provide proof on the spot). Residential traffic access to the West End will be at Nelson and Thurlow, Davie and Thurlow, Burnaby and Thurlow, and at Nicola and Robson streets. For residents west of Denman, access is available on Alberni west of Denman.
These restrictions will be in place from 7:30pm until 11:30pm in the West End and from 6:00pm to 11:30pm in Kits Point. Residential and commercial traffic at Kits Point should use Maple and Cypress Street northbound to cross Cornwall to access Kits Point on event nights. No access will be permitted from Cornwall. See the City of Vancouver's website for more details.
Bikes
The Celebration of Light is providing a FREE bike valet service at three locations: Under Burrard Street bridge (near Vancouver Aquatic Centre), at the Second Beach parking lot, and at King George Secondary School (Bidwell and Denman).
False Creek Ferry
All False Creek Ferry routes will be open normal hours and will close at 9:30pm. They will reopen after the fireworks and run until midnight.
Transit
Bus routes that go through the West End will be re-routed from 7:00pm on fireworks nights. As of 9:00pm buses that usually go over the Burrard Bridge (such as the #22 McDonald) will be using the Granville Bridge. West Vancouver Transit will stage approximately 15 additional buses along Georgia near Denman, to be used as required. SkyTrain (Expo, Canada, and Millennium Line) will operate at rush-hour level until 1:16am. However, Translink has stated that they will continue to run trains as long as there are still passengers around that need to get home.
Transit supervisors will monitor service and deploy additional buses as needed.
The 250, 250A and 257 will have additional service before and after the events.
Some buses will be detoured, including, but not limited to, the C21, C23, 5, 6 and 22 routes.
There will be no access to Waterfront Station through the main entrance on Cordova Street except for persons with wheelchairs or strollers and the only access to Granville Station after 10:00pm will be *through the Dunsmuir Street entrance*. Tranlink will also try to prevent "seat-camping" (where you go a station ahead and ride the train back in the opposite direction) by not allowing inbound passengers to board at Stadium-Skytrain. Basically, Burrard SkyTrain outbound is your best bet.
The last train on the Expo/Millennium Line will leave Waterfront for King George at 1:16am
The last Canada Line train will leave Waterfront for Richmond–Brighouse at 1:15am
SkyTrain customers can pre-purchase return tickets at King George, Scott Road, Granville, Burrard, Bridgeport, Yaletown–Roundhouse and Vancouver City Centre stations.
SeaBus service will also be extended July 26: Service every 10 minutes from 11:00am to 8:45pm; every 15 minutes until 11:30pm; and every 30 minutes after 11:30pm, until the last sailing at 1:22am from the South Terminal. July 30 and August 2: Service every 15 minutes until 11:30pm and then every 30 minutes until the last departure from the South Terminal at 1:22am.
You can read all updates for the Celebration of Light on the Translink website.
Celebration of Light Fireworks Viewing Spots
If you can get to English Bay early enough to claim a square of beach or grass with a blanket that's always your best viewing area. You can stretch down the shore a bit to Sunset Beach or toward Stanley Park and Second Beach. Across the water there's Vanier Park, Kits Beach or Jericho.
The Kitsilano Showboat also offers free early evening entertainment and prime fireworks viewing from that side of the city.
There are harbour cruises and you can enjoy the fireworks from the water (canoe or kayak) however you will be kept at a safe distance. The side of the Burrard Bridge is a great spot as well, but get there early again to make sure you grab your piece of the railing. If you're up for the trek, you can also view the fireworks from the lookout point on Cypress.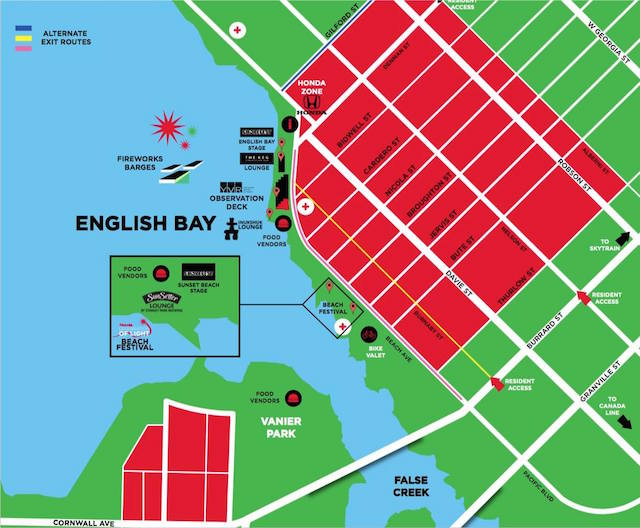 Remember to leave the booze, knives, and urge to get into trouble at home tonight. Come on down, have some fun, cart out whatever garbage you brought with you (or created).