The third annual Tacos for Trey event will take place May 8th at Lynn Valley Elementary School from 3:00pm – 6:00pm. Prior to receiving an email to my contact form I had not heard Trey's story, nor had I heard of his disease (or difference as his family says).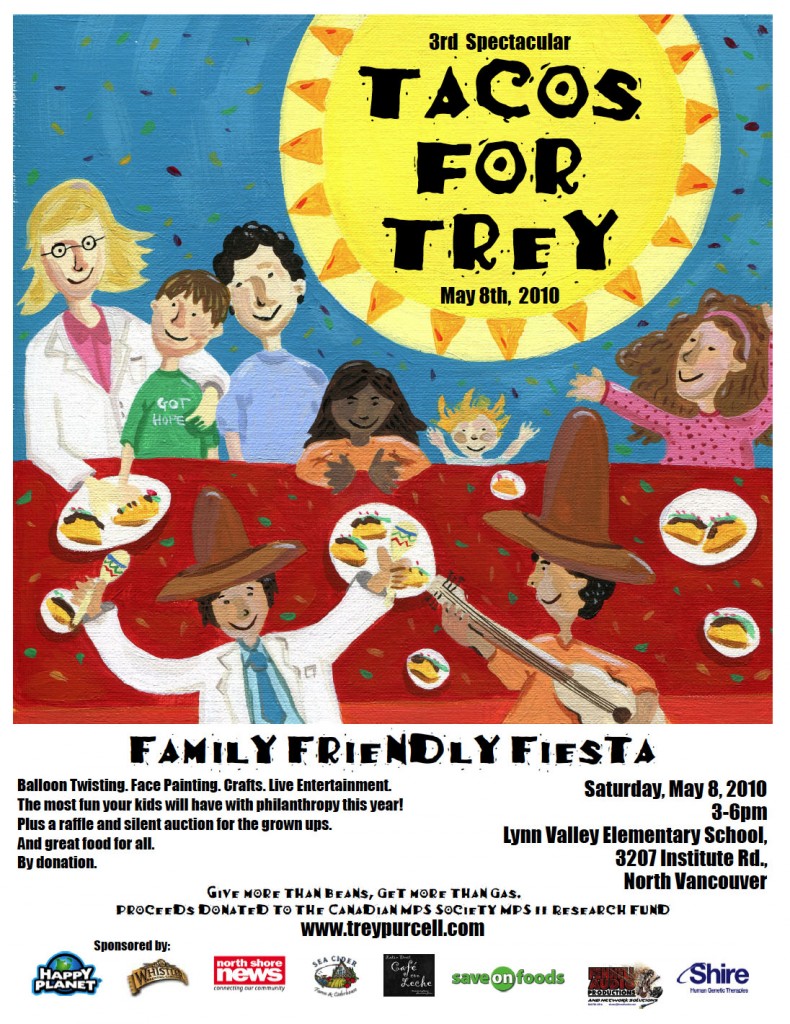 It was just a few years ago that Trey, who is now 6 years old, was diagnosed with MPS Type II, also known as Hunter Syndrome. On the family's website Trey's story is told:
"During the appointment when were told that our child likely had something called Muchopolysaccharidosis (MPS). We were told that this would affect every part of his body. Specifically, we were told that Trey's hands would curl, his bones wouldn't grow properly, his organs would start to fail and his life span would likely be shortened significantly. For about 2 weeks, we cried. We cried and cried until we were so exhausted, we didn't have the energy to cry anymore."
For the last few years family and friends have got together to support Trey, who receives weekly treatments at the BC Children's Hospital. "Most people have no idea what it is, and many of the specialists we see also have never seen a person with MPS. Some things are known about the disease, but not everything. So what we have decided to do is believe and hope. Watching Trey doesn't make that hard. We believe that Trey is going to be okay."
Tacos for Trey is a fun, lively and festive family event with music, face painting, balloon twisting, arts & crafts, food and a silent auction. The fundraiser is entirely community driven and organized by Trey's family in support of the MPS II fund for MPS II research.
"Today, you will find Trey playing street hockey with his family in the driveway. You'll find him launching himself from the dock into Cultus lake. You'll find him cooking up a storm in the kitchen. At six, Trey is a vivacious, creative and independent little guy who is a proud big brother to two."
For more information you can visit any of the following links, and please consider stopping by on Saturday May 8th for a taco fiesta to support MPS II research.