The West End Community Centre once again presents Art in the City, April 30th until May 2nd.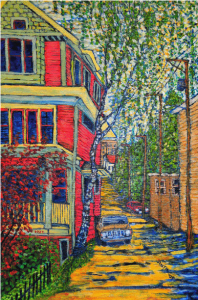 This is the 5th annual showcase of local drawings, paintings, and photography. Admission is free and pieces from over 50 artists will be on sale.
You can also enter to win this year's featured work, "Cardero" by Tom Antil as seen on the promotional poster for the event and in this post.
Things kick off on the 30th with a private gala party and then public are invited to check out the exhibition May 1st from 10:00am until 6:00pm and May 2nd from 10:00am until 2:00pm.
The West End Community Centre is located at 870 Denman Street and are on Twitter @WestEndCC.