Nominations for this year's YWCA Women of Distinction Awards are now open. Since 1984, the YWCA has honored over exceptional 200 women who have been nominated by family, friends and colleagues.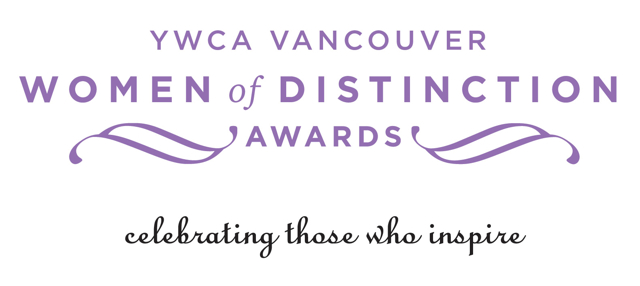 The YWCA Vancouver Women of Distinction Awards encourages nominations that will showcase individuals and organizations who are driving positive change for women and girls either directly or by example. Activities and achievements of all potential nominees must align with the YWCA's values. Candidate's participation in employment, recreation or special interests will encapsulate the spirit of women's equality as outlined in YWCA Vancouver's mission and vision.
I have partnered with the YWCA to help promote this event and help it reach as many women as possible in the region. Categories in which you can nominate outstanding individuals include: Arts, Culture & Design, Business & the Professions, Community Building, Education, Training & Development, Entrepreneurship & Innovation, Health & Active Living, Non-profit & Public Service, Technology, Science & Industry, Innovative Workplace and the Young Woman of Distinction.
Candidates and nominees should be considered leaders and role models, someone who breaks new ground or busts down barriers, shows vision, guides and supports others, takes initiative, is well-respected by her peers, and makes a sustained commitment or significant difference in her industry or community.
Past recipients…
Non-profit & Public Service 2009: Shawn Bayes – Executive Director, Elizabeth Fry Society of Greater Vancouver.
Community Building 2009: Christy Clark – Host, The Christy Clark Show. Christy initiated BC's first Anti-Bullying Day in 2008.
Young Woman of Distinction 2008: Amanda Reaume, founder of Antigone Magazine (they do the Dreams for Women Calendar).
Nominations will close March 15, 2010 and the finalists will be honored at the Awards Ceremony in June (exact date TBD). Proceeds from the Awards Ceremony go to support the YWCA's many programs and services for women and families in the Lower Mainland. If you nominate someone, know a finalist, are a woman in business, or simply want to take part in an inspiring event for a fantastic cause, please consider joining us for the Awards Ceremony.
For now, be sure to get those nominations in. Note, nominees must live and work (individuals) or operate (businesses or organizations) within the Metro Vancouver region bounded by and including Hope, Pemberton, Sunshine Coast and the United States border. You can get the nomination forms online or by calling (604) 895-5768.
Become a fan of the YWCA of Vancouver on Facebook for links, news, updates, and information about the Awards Ceremony when it becomes available.